---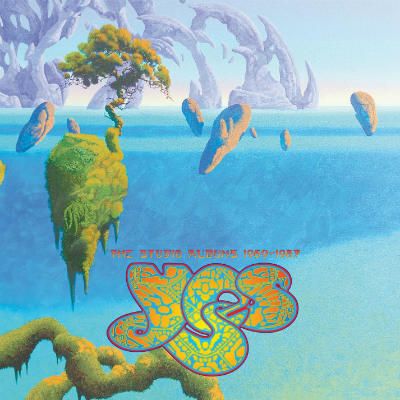 ---
Yes
Titel: The Studio Albums 1969-1987.
Edition: 13-CD-Set.
Label: Rhino.
Erscheinungstermin: 06.12.2013
---
Tracklist
YES (1969)
1. Beyond And Before
2. I See You
3. Yesterday And Today
4. Looking Around
5. Harold Land
6. Every Little Thing
7. Sweetness
8. Survival

BONUS TRACKS

9. Everydays (Single version)
10. Dear Father (Early version #2)
11. Something's Coming
12. Everydays (Early version)
13. Dear Father (Early version #1)
14. Something's Coming (Early version)
---
TIME AND A WORD (1970)
1. No Opportunity Necessary, No Experience Needed
2. Then
3. Everydays
4. Sweet Dreams
5. The Prophet
6. Clear Days
7. Astral Traveller
8. Time And A Word

BONUS TRACKS

9. Dear Father
10. No Opportunity Necessary, No Experience Needed (Original mix)
11. Sweet Dreams (Original mix)
12. The Prophet (Single version)
---
THE YES ALBUM (1971)
1. Yours Is No Disgrace
2. Clap
3. Starship Trooper
4. I've Seen All Good People
5. A Venture
6. Perpetual Change

BONUS TRACKS

7. I've Seen All Good People: Your Move (Single Version)8. Starship Trooper: Life Seeker (Single Version)
9. Clap (Studio Version)
---
FRAGILE (1971)
1. Roundabout
2. Cans And Brahms
3. We Have Heaven
4. South Side Of The Sky
5. Five Per Cent For Nothing
6. Long Distance Runaround
7. The Fish(Schindleria Praematurus)
8. Mood For A Day
9. Heart Of The Sunrise

BONUS TRACKS
10. America
11. Roundabout (Early rough mix
---
CLOSE TO THE EDGE (1972)
1. Close To The Edge
i. The Solid Time Of Change
ii. Total Mass Retain
iii. I Get Up I Get Down
iv. Seasons Of Man
2. And You And I
i. Cord Of Life
ii. Eclipse
iii. The Preacher The Teacher
iv. Apocalypse
3. Siberian Khatru

BONUS TRACKS
4. America (single version)
5. Total Mass Retain (single version)
6. And You and I (alternate version)
7. Siberia (studio run-through of "Siberian Khatru")
---
TALES FROM TOPOGRAPHIC OCEANS (1973)
1. The Revealing Science of God (Dance of the Dawn) (With original introduction restored)
2. The Remembering (High the Memory)
3. The Ancient (Giants Under the Sun)
4. Ritual (Nous sommes du soleil)

BONUS TRACKS
5. Dance of the Dawn (Studio run-through)
6. Giants Under the Sun (Studio run-through)
---
RELAYER (1974)
1. The Gates Of Delirium
2. Sound Chaser
3. To Be Over

BONUS TRACK
4. Soon (Single edit)
5. Sound Chaser (Single edit)
6. The Gates of Delirium (Studio run-through)
---
GOING FOR THE ONE (1977)
1. Going For The One
2. Turn Of The Century
3. Parallels
4. Wonderous Stories
5. Awaken

BONUS TRACKS
6. Montreux's Theme
7. Vevey (Revisited)
8. Amazing Grace
9. Going for the One (Rehearsal)
10. Parallels (Rehearsal)
11. Turn of the Century (Rehearsal)
12. Eastern Number (Early version of Awaken)
---
TORMATO (1978)
1. Future Times / Rejoice
2. Don't Kill The Whale
3. Madrigal
4. Release, Release
5. Arriving UFO
6. Circus Of Heaven
7. Onward
8. On The Silent Wings Of Freedom

BONUS TRACKS
9. Abilene (B-side to "Don't Kill the Whale")
10. Money
11. Picasso
12. Some Are Born
13. You Can Be Saved
14. High
15. Days
16. Countryside
17. Everybody's Song
18. Onward (Orchestral version)
---
DRAMA (1980)
1. Machine Messiah
2. White Car
3. Does It Really Happen?
4. Into The Lens
5. Run Through The Light
6. Tempus Fugit

BONUS TRACKS
7. Into the Lens (Single release)
8. Run Through the Light (Single release)
9. Have We Really Got to Go Through This
10. Song No. 4 (Satellite)
11. Tempus Fugit (Tracking session)
12. White Car (Tracking session)
13. Dancing Through the Light (Paris Sessions)
14. Golden Age" (Paris Sessions)
15. In the Tower (Paris Sessions)
16. Friend of a Friend
---
90125 (1983)
1. Owner Of A Lonely Heart
2. Hold On
3. It Can Happen
4. Changes
5. Cinema
6. Leave It
7. Our Song
8. City Of Love
9. Hearts

BONUS TRACKS
10. Leave It (Single Remix Version)
11. Make It Easy
12. It Can Happen (Cinema Version)
13. It's Over (Previously Unissued)
14. Owner Of A Lonely Heart (Extended Remix)
15. Leave It (A Capella Version)
---
BIG GENERATOR (1987)
1. Rhythm Of Love
2. Big Generator
3. Shoot High Aim Low
4. Almost Like Love
5. Love Will Find A Way
6. Final Eyes
7. I'm Running
8. Holy Lamb (Song for Harmonic Convergence)

BONUS TRACKS
9. Love Will Find a Way (Edited Version)
10. Love Will Find a Way (Extended Version)
11. Rhythm of Love (Dance to the Rhythm Mix)
12. Rhythm of Love (Move to the Rhythm Mix)
13. Rhythm of Love (The Rhythm of Dub)
Rezension (CD-Box-Set)
Meine Begeisterung für die britische Prog-Rock-Band YES begann in etwa im April 1974. Während meines ersten Schulski-Kurses machte mich im Skiliftfahrt ein Klassenkamerad auf diese Band aufmerksam, die zu diesem Zeitpunkt gerade ihr Triple-Vinyl YESSONGS herausgebracht hatte. Beim Montanus am Würzburger Dominikanerplatz dann eine erste Hörprobe und ich war, heute würde man sagen, komplett "geflasht!".
"And You And I" – mein Schlüsselerlebnis
Mein Lieblings-Song damals "And You And I"! Das Album wurde sofort für 29 DM vom Taschengeld ohne langes Zögern gekauft.
Dann etliche Tonband- und Cassetten-Aufnahmen ihrer LPs FRAGILE, CLOSE TO THE EDGE und TALES OF MYSTERY AND IMAGINATION. Schon bald verlor ich die Band wieder etwas aus den Augen, bevor sie mir unvermeidlich mit dem Album 90125 auf diversen Radiokanälen 1983 wieder begegnete. Das neue Album gefiel mir sehr gut, die epische Ausgestaltung von Songs, die sich früher locker an die 20 Minutengrenze herantasteten, war einem stringenteren Songwriting, zugleich einer gewissen Radiokompatibilität gewichen.
Später schaffte ich mir noch UNION (1991) und TALK (1994) an.
Ganz aus den Augen habe ich diese Band nie verloren, wenngleich mich die Ära der 1970er und die 1980er Jahre bei Yes am meisten interessierte. Doch beständig waren bei YES immer auch die personellen Veränderungen. Stimmlich gefiel mit Jon Anderson einfach am besten.
Nun habe ich zugeschlagen und mir die Box YES – THE STUDIO ALBUMS 1969-1987 zugelegt. Kein Fehlkauf, sondern alles – mir essentiell Erscheinende – von YES enthalten. Es macht richtig Spaß, mit jedem dort enthaltenen Album in die Vergangenheit einzutauchen.
Roger Dean war verantwortlich für das Cover-Design der ersten erfolgreichen Jahre
Dass ein vernünftiges Booklet bei dieser Zusammenstellung fehlt, ist allerdings mehr als nur ein kleiner Makel.
Gerne hätte ich noch etwas draufgelegt, um eben nicht nur die exquisite Qualität des Cover-Designs – in den frühen Jahren noch vom legendären Roger Dean – en miniature genießen zu können, sondern auch noch die zugehörigen Credits, Lyrics etc. in lesbarer Form vorfinden zu können. Rhino hat bei früheren CD-Ausgaben diesbezüglich durchaus gute Arbeit geleistet. Hier ist es einfach "Mist", da man auch die enthaltenen Tracklists nur auf den Labels der einzelnen CDs in vernünftiger Größe nachlesen kann.
Die Klangqualität ist insgesamt dem Medium CD angemessen gut. Sicherlich ist hier noch Luft nach oben vorhanden.
Irgendwann kommt mir die passende Vinyl-Box, die es leider noch nicht gibt, ins Haus.
Bis dahin erfreue ich mich eben an den Compact-Discs.
---
---
---
---
Last Updated on 17/03/2023 by mr.music-on-net