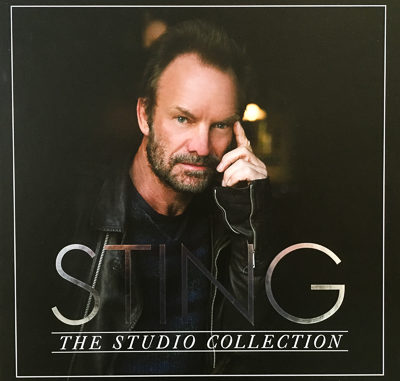 Sting – The Studio Collection (1985-2013)
VÖ: 30. September 2016
Label: A & M Records (Universal Music)
Format: 11 LP-Limited-Box-Set mit Download-Code
Kritik / Tonträger / Vinyl-Box-Set © Gerald Langer
Wer braucht denn wirklich noch Sting – The Studio Collection – in den ehrwürdigen Abbey Road Studios neu gemastert und anschließend auf 180-Gramm-Vinyl gepresst – als schweres und weiteres sperriges Box-Set ohne jegliche Extras? Ein informatives Begleitbuch sucht man ebenso vergebens.
Natürlich füllt der weit gereiste und engagierte Brite seit Jahrzehnten bei Musikliebhabern um die 50plus ohnehin mehr oder minder stark die CD-Regale. Bei mir sind es – ich habe gerade einmal nachgemessen –  sage und schreibe 48 laufende Zentimeter Sting in CD-Format, zahlreiche Maxi-Singles inklusive. Ist das nicht genug?
Offensichtlich nicht! Der Ausstieg von Gordon Matthew Thomas Sumner, kurz: Sting, bei The Police, einer der erfolgreichsten britischen Rockbands der 1980er Jahre, führte nicht etwa zum künstlerischen Stillstand dieses Alpha-Männchens.
Sein Jazz-Bassisten-Herz schlug zusehends lauter und ließ auf The Police's Synchronicity sein Maßstab setzendes Solo-Debüt-Album "The Dream Of The Blue Turtles" (1985) folgen, an dem sich all seine weiteren Werke zwangsläufig bisher messen lassen mussten und noch heute müssen.
Mit "Nothing Like The Sun" (1987), damals eine meiner ersten CDs überhaupt, hielt Sting diese Klasse noch. Zwischendurch erschien – als Live-Album – noch Bring On The Night (1986) mit begleitender Video-, später DVD-Veröffentlichung.
Soul Cages (1991), Ten Summoner's Tales (1993), Mercury Falling (1996),  Brand New Day (1999), Sacred Love (2003) und zuletzt Last Ship (2013) sind durchaus gute bis sehr gute Alben, in denen Sting sich in unterschiedlichsten Stilrichtungen erprobt. Zu meinem Leidwesen auch im Country. Am besten gefällt er mir als "rockiger Jazzer".
Insofern darf man gespannt sein, ob sein angekündigtes neues Album "57th & 9th" – habe das blaue Vinyl schon geordert – insgesamt so geradlinig rockig gerät, wie die seit einigen Wochen verfügbare Single-Auskopplung "I Can't Stop Thinking About You" es erwarten lässt.
Und wenn nicht? Auch egal, mit seiner Stimme hat Sting schon auch manch mediokres Material veredelt! Sonst hätte ich nicht mittlerweile bereits einen halben Meter Sting im CD-Regal!
Übrigens:
Das Vinyl-Paket klingt einwandfrei und ist zudem nahezu frei von Knistern, was keine Selbstverständlichkeit bei vinylen Neuauflagen ist!
© Gerald Langer