---
Talking Heads: Brick_Dual Discs_2005_© Sire Records (Warners)
---
Talking Heads
Album: Brick
Format: DualDiscs, DVD-A
VÖ: 04.10.2005
Label / Vertrieb: Rhino (Warner Music)
Website
Facebook
---
Besonderheiten
This specially packed boxed set contains all eight of Talking Heads' studio albums, expanded and remastered as two-sided DualDiscs featuring DVD-A sound (at 96 kHz/24-bit in 5.1 channels or Stereo), rare and previously unreleased material, and video tracks.
Packaging includes an outer white molded plastic box with raised song titles, housing eight individually packaged white jewel cases, each containing liner notes, rare photos, and song-inspired art pieces.
Front sticker reads:
Entire studio catalog – 8 albums
Available for the first time on DualDisc
Remixed by Jerry Harrison in
• Advanced Resolution 5.1 Surround Sound
• Advanced Resolution Stereo
• Dolby Surround
Each album expanded with
• Unreleased performance video
• Bonus audio tracks
• Music videos
• Photo galleries
• Limited-edition art prints
---
Credits
Mixed By [Remixed By] – Jerry Harrison

Producer – Brian Eno (Titel: CD2, DVD2, CD3, DVD3, CD4, DVD4), Lance Quinn (Titel: CD1, DVD1), Steve Lillywhite (Titel: CD8, DVD8), Talking Heads (Titel: CD1, DVD1, CD2, DVD2, CD3, DVD3, CD5, DVD5, CD6, DVD6, CD7, DVD7, CD8, DVD8), Tony Bongiovi (Titel: CD1, DVD1)

Reissue Producer – Andy Zax, Talking Heads
---
Rezension (Album)
Chris Frantz (dr), Tina Weymouth (b), Jerry Harrison (keys, g) und
David Byrne (Vocals, g) bildeten einst das innovative New Yorker Quartett Talking Heads ab Mitte der 1970er Jahre.

Zunächst eher aktiv als Undergroundattraktion mit Auftritten im legendären New Yorker Club CBGB's, der schon Patti Smith das passende Podium geboten hatte, entwickelt sich diese Band konsequent – unter Einbindung afrikanischer Rhythmen – immer weiter, bis 1992, nach Veröffentlichung einer ersten Retrospektive – "Sand In The Vaseline" – von Mastermind David Byrne das Ende der Talking Heads als aktive Band verkündet wird.

Rückblickend muss man sagen, dass es eine richtige Entscheidung war. Die Band spielte auf der letzten CD "Naked" von 1988 zwar perfekt, aber auch etwas steril, ohne dem interessierten Hörer noch große Überraschungen anbieten zu können.

Die Jahre nach dem Split waren geprägt von verschiedenen Einzelaktionen der ehemaligen Bandmitglieder, allen voran der sich immer mehr auf "Weltmusik" verlegende David Byrne. An die großen gemeinsamen – kommerziellen – Erfolge konnten sie dabei allesamt nicht mehr anknüpfen.

Dass die Musik der Talking Heads auch heute noch etwas mitzuteilen hat, zeigt vor allem die jüngste DVD von "David Byrne – Live At Union Chapel", die an der Stelle dem geneigten Hörer nur ans Herz gelegt werden kann.

Die Talking Heads hatten eben nicht nur Musik gemacht, die man allein im Kontext der 1970er und 1980er Jahre sehen darf, sondern sie haben etwas geschaffen, das man als zeitlos, ja eben klassisch und modern zugleich, bezeichnen darf.

Langes Warten hat sich wieder einmal gelohnt. Die acht Studioalben der einstigen New Yorker Underground Band liegen nun endlich als DualDiscs, sprich mit DVD-Audio- und üblicher CD-Abspielmöglichkeit, vor.

Tja, und gerade die DVD-Audio-Variante im 5.1 Modus macht richtig Spass. Hier hat Jerry Harrison hervorragende Arbeit bei den Remixes geleistet. Sie klingen teilweise auch etwas anders als die Originaleinspielungen.

Dies hat wiederum zur Folge, dass man sich auch von den damaligen Erstausgaben – LP's und CD's – als Fan nicht trennen kann und muss.

Vielleicht wird das Oeuvre der Talking Heads in Form dieses kleinen "Brick" ja auch in Deutschland noch veröffentlicht. Schließlich ist er, der "Ziegel", ja auch noch mit verschiedenen – previously unissued – Bonus – Audio – und DVD – Tracks angereichert.

Dem Musikinteressierten sei er jedenfalls – trotz des vergleichsweise hohen Verkaufspreises – auch als Import wärmstens empfohlen.
Veröffentlicht ursprünglich als Kundenrezension 2006 auf amazon.de
---
Tracklist
Talking Heads: 77 (1977)
CD1-1 Uh-Oh, Love Comes To Town 2:48
CD1-2 New Feeling 3:09
CD1-3 Tentative Decisions 3:04
CD1-4 Happy Day 3:55
CD1-5 Who Is It? 1:41
CD1-6 No Compassion 4:47
CD1-7 The Book I Read 4:06
CD1-8 Don't Worry About The Government 3:00
CD1-9 First Week / Last Week… Carefree 3:19
CD1-10 Psycho Killer 4:19
CD1-11 Pulled Up 4:29
CD1-12 Love → Building On Fire 2:57
CD1-13 I Wish You Wouldn't Say That 2:36
CD1-14 Psycho Killer (Acoustic) 4:30
CD1-15 I Feel It In My Heart 3:19
CD1-16 Sugar On My Tongue 2:36

DVD1-1 Uh-Oh, Love Comes To Town 2:48
DVD1-2 New Feeling 3:09
DVD1-3 Tentative Decisions 3:04
DVD1-4 Happy Day 3:55
DVD1-5 Who Is It? 1:41
DVD1-6 No Compassion 4:47
DVD1-7 The Book I Read 4:06
DVD1-8 Don't Worry About The Government 3:00
DVD1-9 First Week / Last Week… Carefree 3:19
DVD1-10 Psycho Killer 4:19
DVD1-11 Pulled Up 4:29
DVD1-12 Psycho Killer (Acoustic) 4:30
DVD1-13 Uh-Oh, Love Comes To Town (Alternate 5.1 Mix) 2:48
DVD1-Video 1 Pulled Up (Live At Sproul Plaza, Berkeley, CA 1978) 4:03
DVD1-Video 2 I Feel It In My Heart (Live At The Kitchen, New York, NY, 1976) 3:06

Talking Heads: More Songs About Buildings And Food (1978)

CD2-1 Thank You For Sending Me An Angel 2:11
CD2-2 With Our Love 3:30
CD2-3 The Good Thing 3:03
CD2-4 Warning Sign 3:54
CD2-5 The Girls Want To Be With The Girls 2:38
CD2-6 Found A Job 5:01
CD2-7 Artists Only 3:34
CD2-8 I'm Not In Love 4:34
CD2-9 Stay Hungry 2:39
CD2-10 Take Me To The River 5:02
CD2-11 The Big Country 5:39
CD2-12 Stay Hungry (1977 Version) 3:47
CD2-13 I'm Not In Love (Alternate Version) 5:17
CD2-14 The Big Country (Alternate Version) 5:03
CD2-15 Thank You For Sending Me An Angel ("Country Angel" Version) 2:11

DVD2-1 Thank You For Sending Me An Angel 2:10
DVD2-2 With Our Love 3:30
DVD2-3 The Good Thing 3:03
DVD2-4 Warning Sign 3:54
DVD2-5 The Girls Want To Be With The Girls 2:38
DVD2-6 Found A Job 5:01
DVD2-7 Artists Only 3:34
DVD2-8 I'm Not In Love 4:34
DVD2-9 Stay Hungry 2:39
DVD2-10 Take Me To The River 5:02
DVD2-11 The Big Country 5:38
DVD2-Video 1 Found A Job (Live At Entermedia Theatre, New York, NY, 1978) 4:44
DVD2-Video 2 Warning Sign (Live At Sproul Plaza, Berkley, CA, 1978) 4:06
Talking Heads: Fear Of Music (1979)

CD3-1 I Zimbra 3:08
CD3-2 Mind 4:13
CD3-3 Paper 2:38
CD3-4 Cities 4:17
CD3-5 Life During Wartime 3:41
CD3-6 Memories Can't Wait 3:30
CD3-7 Air 3:34
CD3-8 Heaven 4:01
CD3-9 Animals 3:30
CD3-10 Electric Guitar 3:01
CD3-11 Drugs 5:20
CD3-12 Dancing For Money (Unfinished Outtake) 2:41
CD3-13 Life During Wartime (Alternate Version) 4:07
CD3-14 Cities (Alternate Version) 5:03
CD3-15 Mind (Alternate Version) 4:26

DVD3-1 I Zimbra 3:06
DVD3-2 Mind 4:12
DVD3-3 Paper 2:42
DVD3-4 Cities 4:15
DVD3-5 Life During Wartime 3:40
DVD3-6 Memories Can't Wait 3:29
DVD3-7 Air 3:32
DVD3-8 Heaven 4:00
DVD3-9 Animals 3:29
DVD3-10 Electric Guitar 3:08
DVD3-11 Drugs 5:05
DVD3-Video 1 Cities (Rockpop German TV Appearance, 1980) 5:14
DVD3-Video 2 I Zimbra (Rockpop German TV Appearance, 1980) 4:05
Talking Heads: Remain In Light (1980)

CD4-1 Born Under Punches (The Heat Goes On) 5:46
CD4-2 Crosseyed And Painless 4:45
CD4-3 The Great Curve 6:26
CD4-4 Once In A Lifetime 4:19
CD4-5 Houses In Motion 4:30
CD4-6 Seen And Not Seen 3:20
CD4-7 Listening Wind 4:42
CD4-8 The Overload 6:00
CD4-9 Fela's Riff (Unfinished Outtake) 5:19
CD4-10 Unison (Unfinished Outtake) 4:49
CD4-11 Double Groove (Unfinished Outtake) 4:27
CD4-12 Right Start (Unfinished Outtake) 4:07

DVD4-1 Born Under Punches (The Heat Goes On) 5:46
DVD4-2 Crosseyed And Painless 4:45
DVD4-3 The Great Curve 6:26
DVD4-4 Once In A Lifetime 4:19
DVD4-5 Houses In Motion 4:30
DVD4-6 Seen And Not Seen 3:20
DVD4-7 Listening Wind 4:42
DVD4-8 The Overload 6:00
DVD4-Video 1 Crosseyed And Painless 7:17
DVD4-Video 2 Once In A Lifetime 5:34
Talking Heads: Speaking In Tongues (1983)

CD5-1 Burning Down The House 4:01
CD5-2 Making Flippy Floppy 5:54
CD5-3 Girlfriend Is Better 5:43
CD5-4 Slippery People 5:06
CD5-5 I Get Wild/Wild Gravity 5:16
CD5-6 Swamp 5:13
CD5-7 Moon Rocks 5:45
CD5-8 Pull Up The Roots 5:09
CD5-9 This Must Be The Place (Naive Melody) 5:04
CD5-10 Two Note Swivel (Unfinished Outtake) 5:51
CD5-11 Burning Down The House (Alternate Version) 5:09

DVD5-1 Burning Down The House 4:05
DVD5-2 Making Flippy Floppy 5:52
DVD5-3 Girlfriend Is Better 5:45
DVD5-4 Slippery People 5:41
DVD5-5 I Get Wild/Wild Gravity 5:16
DVD5-6 Swamp 5:09
DVD5-7 Moon Rocks 5:45
DVD5-8 Pull Up The Roots 4:08
DVD5-9 This Must Be The Place (Naive Melody) 5:00
DVD5-10 Burning Down The House (Alternate 5.1 Mix) 6:13
DVD5-Video 1 Burning Down The House 4:10
DVD5-Video 2 This Must Be The Place (Naive Melody) 4:48
Talking Heads: Little Creatures (1985)

CD6-1 And She Was 3:36
CD6-2 Give Me Back My Name 3:20
CD6-3 Creatures Of Love 4:12
CD6-4 The Lady Don't Mind 4:03
CD6-5 Perfect World 4:26
CD6-6 Stay Up Late 3:51
CD6-7 Walk It Down 4:42
CD6-8 Television Man 6:10
CD6-9 Road To Nowhere 4:19
CD6-10 Road To Nowhere (Early Version) 4:51
CD6-11 And She Was (Early Version) 3:56
CD6-12 Television Man (Extended Mix) 8:02

DVD6-1 And She Was 3:36
DVD6-2 Give Me Back My Name 3:20
DVD6-3 Creatures Of Love 4:12
DVD6-4 The Lady Don't Mind 4:03
DVD6-5 Perfect World 4:26
DVD6-6 Stay Up Late 3:51
DVD6-7 Walk It Down 4:42
DVD6-8 Television Man 6:10
DVD6-9 Road To Nowhere 4:19
DVD6-Video 1 And She Was 3:37
DVD6-Video 2 Road To Nowhere 4:10
Talking Heads: True Stories (1986)

CD7-1 Love For Sale 4:31
CD7-2 Puzzlin' Evidence 5:23
CD7-3 Hey Now 3:42
CD7-4 Papa Legba 5:55
CD7-5 Wild Wild Life 3:39
CD7-6 Radio Head 3:31
CD7-7 Dream Operator 4:38
CD7-8 People Like Us 4:28
CD7-9 City Of Dreams 5:07
CD7-10 Wild Wild Life (Extended Mix) 5:30
CD7-11 Papa Legba (Pops Staples Vocal Version) 6:19
CD7-12 Radio Head (Tito Larriva Vocal Version) 4:11

DVD7-1 Love For Sale 4:31
DVD7-2 Puzzlin' Evidence 5:23
DVD7-3 Hey Now 3:42
DVD7-4 Papa Legba 5:55
DVD7-5 Wild Wild Life 3:39
DVD7-6 Radio Head 3:31
DVD7-7 Dream Operator 4:38
DVD7-8 People Like Us 4:28
DVD7-9 City Of Dreams 5:07
DVD7-10 Papa Legba (Pops Staples Vocal Version)(5.1 Mix) 5:59
DVD7-Video 1 Wild Wild Life (Music Video, 1986) 3:43
DVD7-Video 2 Love For Sale (Music Video, 1986) 3:29
Talking Heads: Naked (1988)

CD8-1 Blind 4:58
CD8-2 Mr. Jones 4:18
CD8-3 Totally Nude 4:03
CD8-4 Ruby Dear 3:48
CD8-5 (Nothing But) Flowers 5:14
CD8-6 The Democratic Circus 5:01
CD8-7 The Facts Of Life 6:26
CD8-8 Mommy Daddy You And I 3:58
CD8-9 Big Daddy 4:01
CD8-10 Bill 3:21
CD8-11 Cool Water 5:08
CD8-12 Sax And Violins 5:18

DVD8-1 Blind 4:58
DVD8-2 Mr. Jones 4:18
DVD8-3 Totally Nude 4:03
DVD8-4 Ruby Dear 3:48
DVD8-5 (Nothing But) Flowers 5:14
DVD8-6 The Democratic Circus 5:01
DVD8-7 The Facts Of Life 6:26
DVD8-8 Mommy Daddy You And I 3:58
DVD8-9 Big Daddy 4:01
DVD8-10 Bill 3:21
DVD8-11 Cool Water 5:08
DVD8-12 Sax And Violins 5:49
DVD8-Video 1 Blind 4:13
DVD8-Video 2 Sax And Violins 5:12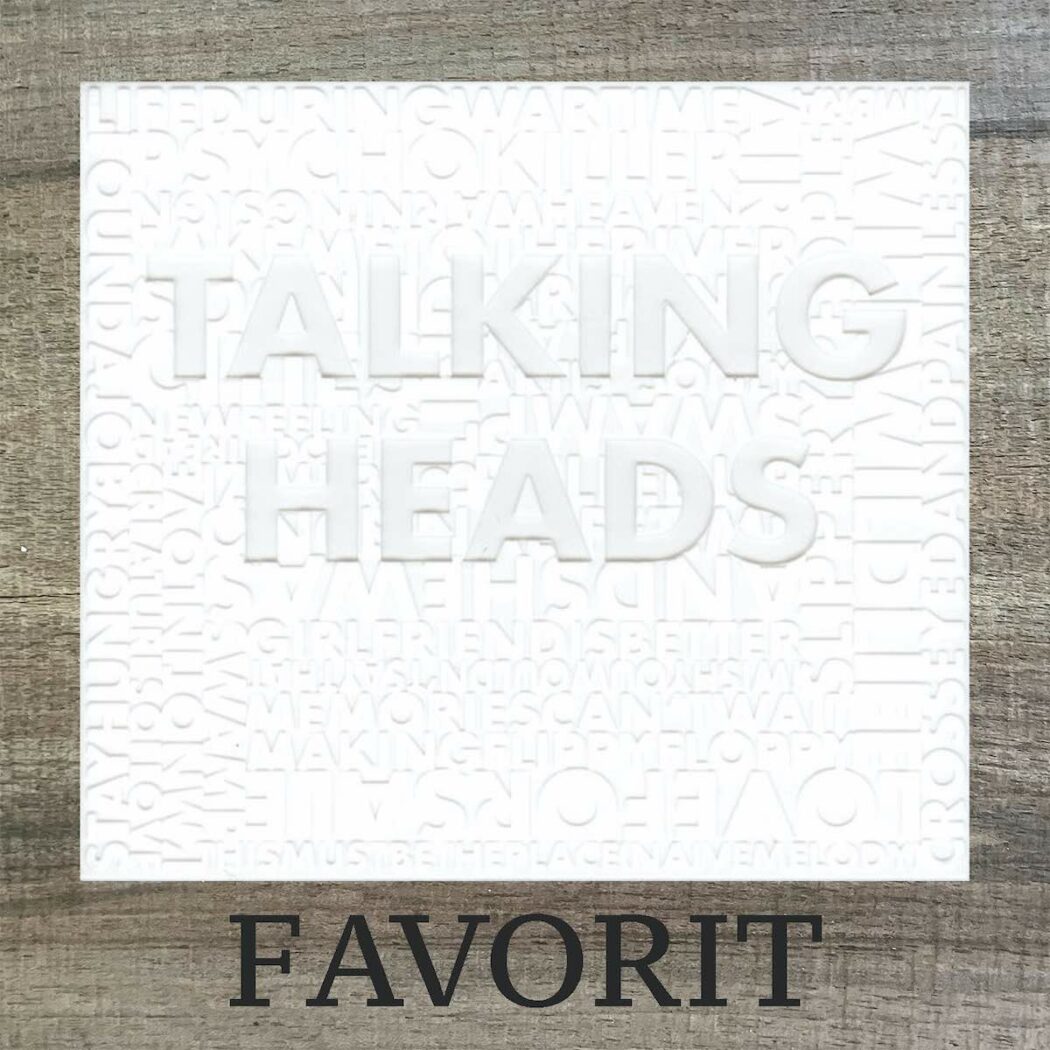 ---
Neueste Beiträge
---