---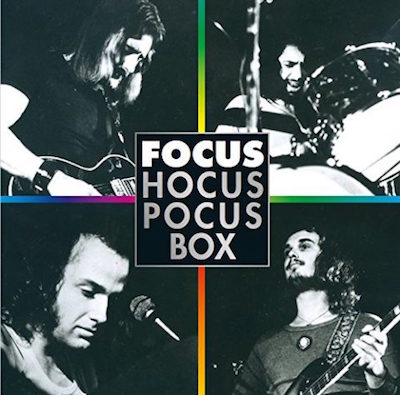 ---
Focus
Titel: Hocus Pocus Box.
Edition: 13-CD-Set.
Label: Red Bullet (H'Art).
VÖ: 07. Juli 2017
Die Alben mit Tracklisting
---
Disc: 1 – Focus Plays Focus/In and Out Of Focus (1970)
1. Focus…(Vocal)
2. Black Beauty
3. Sugar Island
4. Anonymus
5. House Of The King
6. Happy Nightmare (Mescaluine)
7. Why Dream
8. Focus…(Instrumental)
Disc: 2 – Focus 2/Moving Waves (1971)
1. Hocus Pocus
2. Le Clochard
3. Janis
4. Moving Waves
5. Focus II
6. Eruption
Disc: 3 – Focus 3 (1972)
1. Round Goes The Gossip
2. Love Remembered
3. Sylvia
4. Carnival Fugue
5. Focus III
6. Answers? Questions! Qustions? Answers!
7. Elspeth Of Nottingham
8. Anonymus II
Disc: 4 – At the Rainbow (1973)
1. Focus III (Live)
2. Answers? Questions! Qustions? Answers! (Live)
3. Focus II (Live)
4. Eruption (Live)
5. Hocus Focus (Live)
6. Sylvia (Live)
7. Hocus Focus – Reprise (Live)
Disc: 5 – Hamburger Concerto (1974)
1. Delitae Musicae
2. Harem Scarem
3. La Cathedrale De Strasbourg
4. Birth
5. Hamburger Concerto
6. Early Birth
Disc: 6 – Mother Focus (1975)
1. Mother Focus
2. I Need A Bothroom
3. Bennie Helder
4. Soft Vanilla
5. Hard Vanilla
6. Tropic Bird
7. Focus IV
8. Someone's Crying…What?
9. All Together….Oh That!
10. No Hang Ups
11. My Sweetheart
12. Father Bach
Disc: 7 – Focus con Proby (1978)
1. Wingless
2. Orion
3. Night Flight
4. Eddy
5. Sneezing Bull
6. Brother
7. Tokyo Rose
8. Maximum
Disc: 8 – Ship Of Memories (1976)
1. P's March
2. Can't Believe My Eyes
3. Focus V
4. Out Of Vesuvius
5. Glider
6. Red Sky At Night
7. Spoke The Lord Creator
8. Crackers
9. Ship Of Memories
10. Hocus Pocus (U.S. Single Version)
Disc: 9 – Focus (by Jan Akkerman and Thijs van Leer) (1985)
1. Russian Roulette
2. King Kong
3. Le Tango
4. Indian Summer
5. Beethoven's Revenge (Bach-One-Turbo-Overdrive)
6. Ole Judy
7. Who's Calling
Disc: 10 – Focus 8 (2002)
1. Rock & Rio
2. Tamara's Move (Allegroadagio-Allegro)
3. Fretless Love
4. Hurkey Turkey
5. De Ti O De Mi
6. Focus 8
7. Sto Ces Raditi Ostatac Zivota?
8. Neurotika – Rehearsal Take
9. Brother
10. Blizu Tebe
11. Flower Shower
Disc: 11 – Focus 9/New Skin (2006)
1. Black Beauty
2. Focus 7
3. Hurkey Turkey 2
4. Sylvia's Stepson – Ubatuba
5. Niel's Skin
6. Just Like Eddy
7. Aya-Yuppie-Hippie-Yee
8. Focus 9
9. Curtain Call
10. Ode To Venus
11. European Rap(sody)
12. Pim
13. It Takes 2 2 Tango
14. Brazil Love
Disc: 12 – Focus X (2012)
1. Father Bacchus
2. Focus 10
3. Victoria
4. Amok In Kindergarten
5. All Hens On Deck
6. Birds Come Fly Over (Le Tango)
7. Hoeratio
8. Talk Of The Crown
9. Message Magic
10. Crossroads
Disc: 13 – The Best Of Focus (1993)
1. Hocus Pocus
2. Anonymus
3. House Of The King
4. Focus – Instrumental
5. Janis
6. Focus II
7. Tommy
8. Sylvia
9. Focus III
10. Harem Scarem
11. Mother Focus
12. Focus IV
13. Bennie Helder
14. Glider
15. Red Sky At Night
16. Hocus Pocus (U.S. Single Version)
Rezension (13-CD-Box-Set)
Mit zunehmendem Alter lebt man mehr und mehr vom Blick zurück auf die Vergangenheit als vom Blick nach vorne. Erinnerungen prägen uns Alternde, mich auch. Als Jugendlicher war ich eifriger Radiohörer, schnitt mit meinem Cassetten-Tonbandgerät nachmittägliche Pop-Sendungen des Bayerischen Rundfunks, aber auch des Süddeutschen Rundfunks Stuttgart mit. Meistens wurden auch die baden-württembergischen Sendungen in Stereo ausgestrahlt, allerdings tönten sie mit einem unüberhörbaren Rauschen durch die Schleiflack weißen Boxen meiner Grundig-Stereoanlage. Dann wurde eben auf Mono umgeschaltet, zeichnete mein Recorder ohnehin nur in diesem Übertragungsmodus auf.
Eine meiner liebsten Sendungen auf dem SWR nach 14:00 war ab 1975 die Sendung POINT mit interessanten Text- und eben auch Musikbeiträgen. Ich meine mich zu erinnern, dass deren Erkennungsmelodie damals der Song "Sylvia" von Focus war.
Focus – Airplay in den 1970er Jahren
Die niederländische Band hatte es mir Mitte der 1970er Jahre durchaus angetan. Wenige Platten nur landeten als Vinyl im Regal, Jahrzehnte später dann The Best Of Focus als CD-Veröffentlichung.
Mit dem kürzlich erworbenen, aus insgesamt 13-CDs bestehenden, Box-Set, das alle wesentlichen Alben der Band zusammenfasst, habe ich mir somit den vollständigen Blick zurück in Sachen FOCUS gegönnt.
Die Retrospektive zeigt den Werdegang der niederländischen Progressive-Classic-Rock Band , in deren Mittelpunkt zweifelsohne zum einen der Organist und Flötist Thijs van Leer, zum anderen der noch immer aktive Gitarrist Jan Akkerman standen. Andere Gründungsmitglieder, wie Bassist Martin Dresden und Schlagzeuger Hans Cleuver, waren nach dem Debüt schon nicht mehr dabei, auch die Crummer Pierre von der Linden und Collin Allen verweilten nur kurz in der Band.
Hocus Focus und Sylvia
"Hocus Pocus" und "Sylvia" waren die Single-Auskopplungen, mit der sich FOCUS weltweit Gehör verschaffte.
This van Leer führt heute noch die runderneuerte Band FOCUS, die 2016 ein neues Album herausbrachte, das ich allerdings bisher nicht gehört habe.
Mir gefallen die alten sinfonischen, häufig als Suite präsentierten, Instrumentalstücke heute noch immer. Der Jodler von Thijs van Leer auf Hocus Pocus ist quasi zeitlos.
Insofern kann ich diese Box durchaus empfehlen, gebe aber auch zu, dass sich in diese Kollektion das eine oder andere schwächere Album gegen Ende der 1970er Jahre eingeschlichen hat.
Klanglich ist die Veröffentlichung im grünen Bereich, ein aussagekräftiges Booklet in dieser Preisklasse von rund 37 Euro ist leider auch nicht selbstverständlich.
Eine CD Best of Focus habe ich nun allerdings doppelt.
---
Last Updated on 17/03/2023 by mr.music-on-net