Last updated on 3. Mai 2018
Konzertbericht mit nur einem Konzertfoto
Mark Knopfler am 4. Juli 2015 im Bad Kissinger Luitpold-Park 
---
Bad Kissingen (music-on-net) – Eine Hitzewelle rollt auch über Unterfranken hinweg. Ich bin wirklich alles andere als ein Anhänger dieser extremen Sommertemperaturen und verkrieche mich bei einem solchen Wetter am liebsten in mein abgedunkeltes Arbeitszimmer. Die Möglichkeit, Mark Knopfler wieder einmal erleben zu können, darüber in (vielen) Worten, aber letztlich nur einem Bild darüber berichten zu können, habe ich dennoch sehr gerne genutzt. Die Fränkischen Nachrichten boten mir dankenswerterweise diese Möglichkeit.
Insofern hier der Link zu meinem Bericht: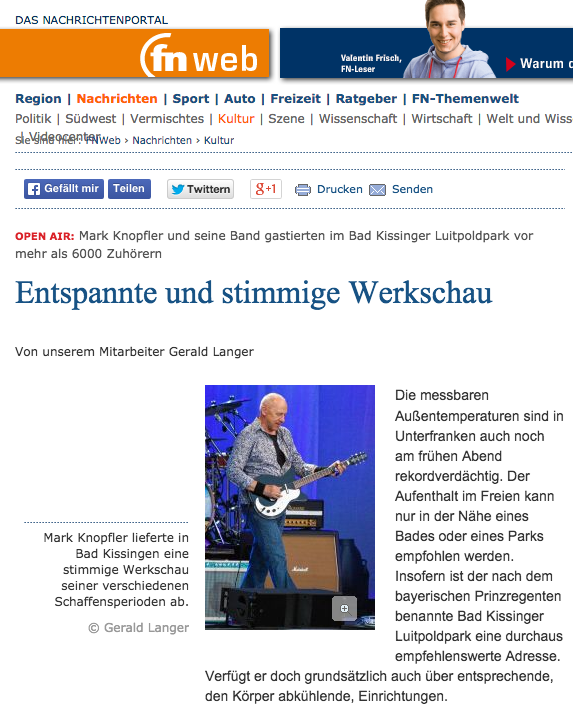 ---
Hier noch ein paar ergänzende Informationen:
Line Up
Mark Knopfler – Gitarre, Gesang
Mike McGoldrick – Pfeife und Flöte
Guy Fletcher – Keyboards
Glen Wolf – Bass
Ian Thomas – Schlagzeug
John McCusker – Geige und Zither
Richard Bennett – Gitarre
Jim Cox – Piano
---
Setlist
Broken Bones
Corned Beef City
Privateering
Father & Son
Hillfarmers
Skydiver
Laugh & Jokes & Drinks & Smokes
Romeo And Juliet
Sultans Of Swing
Haul Away
Postcards From Paraguay
Marbletown
Speedway
Telegraph Road
Encore:
So far away
Piper To The End
---
In der Main Post vom 6. Juli 2015 ist ein längerer Artikel zum Thema "Fotoregeln bei Konzerten" erschienen. Zu diesem Thema werde auch ich mich noch gelegentlich äußern.