Konzertbericht und Konzertfotos.
Hazmat Modine am 26. Mai 2018 im Blues-Club Baden-Baden
"Baden-Baden, New York, New York"
---
Baden-Baden (music-on-net) Eine renommierte New Yorker Band im Vorprogramm einer lokalen Cover-Combo? Alles eine Frage der Prioritäten:
Bereits vor drei Jahren waren Hazmat Modine hier auf der Bühne. Ich hatte nur das Plakat gesehen mit 7 Musikern samt diesem Tuba-Teil und mir war klar, dass man diese Truppe um Wade Schuman unbedingt gehört und auch gesehen haben muss. Irgendwas war damals wichtiger. Als ich die Band im aktuellen Programm des Blues-Clubs Baden-Baden wiederentdecke, habe ich mir den Termin in den Kalender zementiert, komme was wolle.
Es kamen: eine spontane Einladung zu einem runden Geburtstag an einem Traum-Sommerabend und ein Champions-League Finale. Der Fußball ist mir wurscht, und der Jubilar wird auch nach dem Konzert noch eine Wurscht und ein Bier für mich haben … die lokale Band spielt dann sicher auch noch.
Also mische ich mich unter die halbwegs zahlreichen Nicht-Fußballer, die mit den gleichen Prioritäten den Weg in den Löwensaal gefunden haben. Darunter offensichtliche Prioritäten-Profis, wie eine Hochzeits-Gesellschaft samt Braut in Weiß sowie ein 60. Geburtstag.
Wie schon auf dem Plakat erahnt, bietet der Abend vielfältige Kost, die vom üblichen Blues-Club Programm deutlich abweicht – soweit man das sagen kann, denn das Spektrum des Clubs ist schon recht weit gespannt. Vor allem aber lässt sich das Ganze nicht wirklich beschreiben.
Optisch wird die Mixtur dominiert vom John Daleys Sousaphon; das Blechmonster dürfte als Vater ein übergewichtiges Jagdhorn und als Mutter eine Tuba gehabt haben. Zuständig ganz unterschwellig für den Bass. Das unsichtbarste Instrument – Wade Schumans Mundharmonika – spielt dagegen mit Hilfe umfangreicher Effektpedale … jetzt versuche ich doch, das Unbeschreibliche zu beschreiben und werde gleich in den Wald kommen damit. Zumal die Hazmat Modine-Besetzung nicht wirklich starr ist und immer wieder Musiker aller möglichen Stilrichtungen zusammenbringt. Auf dem ewigen Line-up der Homepage finden sich wohl sämtliche Instrumente, die jemals auf diesem Erdball aus Holz geschnitzt oder Blech gedengelt worden sind.
Bildergalerie | Hazmat Modine
---
---
Ist für diesen Abend auch völlig egal, weil viel zu kopfmäßig. Der Bauch reagiert ganz spontan auf diesen überkochenden New Yorker Schmelztiegel aller Genres, die sich gar nicht so wirklich verorten lassen wollen – und brauchen. Schon im ersten Set wird in den ersten Reihen kräftig gezuckt, am Ende tobt der Club wie schon lange nicht mehr.
Denn da kommt mal ein saftiges Stück gut abgehangener Blues daher – Schumans musikalischem Grundrezept – und das Sousaphon legt ordentlich dunkle würzige Soße darunter … dann kommt von Pam Fleming und Steve Elson an Trompete und Sax eine frische Beilage mit jazzigem Topping dazu. Co-Writer Erik Della Penna serviert eine Scheibe Santana auf der Gitarre und ebnet den Weg in Richtung Calypso-Seafood. Dann wechselt er zur 6-seitigen Banjitar für eine Hillbilly-Nummer, die sich ganz auf den Bluegrass reduziert, … bis wieder die Bläser einen großen Löffel Jambalaya drüberhauen gefolgt von einem Nachtisch aus schrägem Klezmer-Geschrammel. Ein Filetstück des American Songbook bekommt ein würziges Balkan-Dressing, verfeinert mit einem kräftigem Blues-Yodel… Die Speisekarte ist reichhaltig.
Schuman beugt sich schreiend übers Mikro, kniet vor dem Sousaphon; sitzt auf seinem Stuhl, die Fiddle dirigierend, und steht im nächsten Moment darauf im Kampf gegen das Saxophon. Das Sousaphon gurrt wie eine Taube, die Schumans Adlerschrei erschrocken vom Himmel fallen lässt. Patrick Simar vertont am Schlagzeug einen frechen Dachs, der sich immer wieder unerwischt davon stiehlt … die Geschichte eines Stücks befasst sich mit der Perspektive eines ausgestopften Tieres, das in New York gerne mal an die Stoßstange eines LKW gezurrt wird… apropos New York: Schuman stellt amüsiert fest, dass unser vermeintlich verdoppeltes Baden-Baden grad eben dem New York, NY entspricht.
Schräge Geschichten, charismatisch artikuliert von Schuman, der mitunter ganz nahe an Tom Waits herankrächzt; begleitet von Charlie Burnhams Streichen, Zupfen und Schlagen auf der elektrischen Geige; warme Untermalung, wenn Steve Elson vom Saxophon zur Klarinette wechselt; ausgerechnet mit der Flöte wird es dann richtig rockig, wenn Schuman eben mal Richtung Jethro Tull abbiegt.
Vor dem akustischen Auge erscheinen New Yorker Straßenschluchten, Pariser Cafés, orientalische Bazare oder karibische Strände. Trotzdem fühlt man sich bei aller Exotik nicht völlig überfordert, da sich alles klanglich nicht allzu weit außerhalb der Komfortzone von Blues-Rock-Jazz-Latin-Hörern abspielt. Alles in allem eine mitreißende Tour durch die Genres, die Appetit auf Musik jenseits des Tellerrandes macht. Die Prioritäten für den Abend waren richtig gesetzt.
Und ja, ich habe auf dem Geburtstag noch ein Bier bekommen und auch die Band hat noch gespielt.
© Jörg Neuner
---
Nächste Konzerte 2018 von Hazmat Modine:
---
3.6. Fabrik, Pfullendorf
5.6. Treibhaus, Innsbruck (AT)
6.6. Fabrik, Hamburg
7.6. Lutterbecker, Lutterbeck, Kiel
8.6. Music Hall, Worpswede
9.6. Audimax, Hildesheim
10.6. Jazzclub Tonne, Dresden
14.6. Kino Traumstern, Lich
16.6. Glockengiesserei, Saarburg
17.6. St. Katharina Open Air, Nürnberg
19.6. Stadttheater, Landsberg/Lech
---
Line-up Hazmat Modine
---
Wade Schuman – vocals, diatonic harmonica, guitar, flute
Eric Della Penna – guitar, banjitar, vocals
Joseph Daley – sousaphone
Pamela Fleming – trumpet
Steve Elson – saxophone, clarinette
Charles Burnham – electric violin
Patrick Simard – drums
---
Setlist
---
Set 1
Be There
Your Sister
Plans
So Far So Good
Lonely Man
To Fat To Fly
Doctor's Wife
Hoarder
Dark River
Delivery Man
Set 2
Box of Breath
In Our Home
Ain't Going That Way
Whiskey Bird
Get Get Out
Moving Stones
End Of Sweet Dreams
Crust Of Bread
Encore
Everybody Loves You
Bahamut
---
now the english version – translated by Jörg Neuner: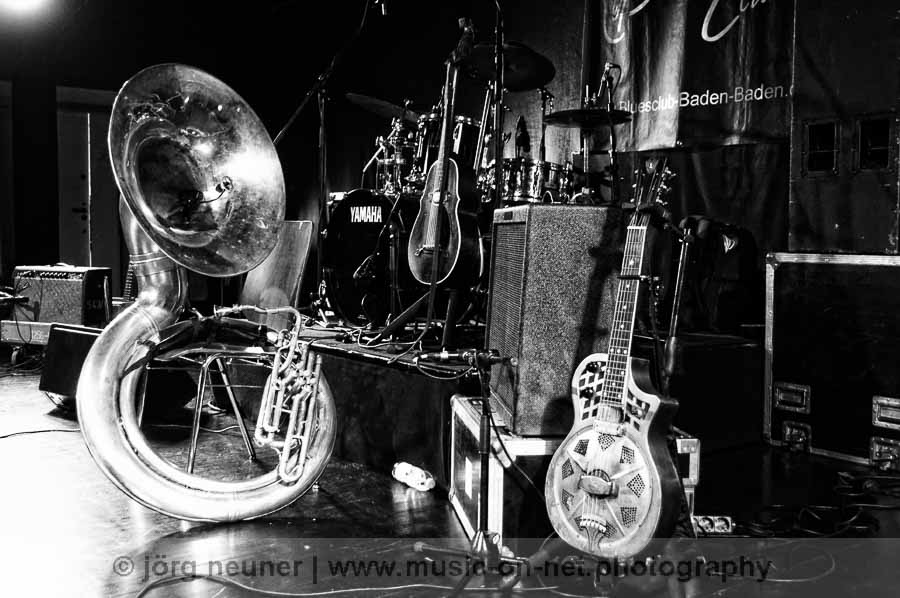 Baden-Baden – New York, New York
---
A renowned New York band opening for a local cover combo? Just a matter of priorities:
Hazmat Modine played this stage already three years ago. I just saw the poster of seven musicians including this tuba thing and I instantly realized I got to see and hear this troupe around Wade Schuman. Something more important came up these days. When I discovered the band announced again in the current program of the Blues Club  Baden-Baden I nailed down that date in my agenda, come what may.
It came: a really spontaneous 60th anniversary and a champion's league final in football. I really don't care about football and the other guy at the age of 60 might be caring for me even later that night … the local combo might be fueled enough to be still playing then as well.
So I merge with the not so mighty crowd of non-footballers, sharing the same priorities to gather at the Löwensaal of Baden-Baden. Obviously amongst some priority pros such as a complete wedding ensemble–including the bride in white–and another 60ies birthday boy.
As the poster indicated, tonight's menu offers a wide variety which differs significantly from the Blues Club's standards–as far as there is a standard within the club's wide range of blues.
You will get in trouble trying to describe what happens on that stage. It is dominated by John Daley's Sousaphone, optically that is–the metal monster's father must have been an overweight hunting horn and a tuba serving as mother; responsible for barely audible bass lines. The most invisible instrument–Wade Schuman's Harmonica–rules the acoustic by help of certain effect pedals … and I'm just about to get in trouble now, describing. Anyway, Hazmat Modine a cloud of musicians of all kind of genres. The eternal line-up on the homepage features surely every instrument on earth that has ever been carved in wood or tinkered of sheet metal.
But that doesn't matter this night, that's all heads. This over-boiling New York melting pot of all genres is all guts and doesn't need any labels. The first set already gets everybody moving and at the end the club is rocking like I haven't seen for quite a while.
Here comes a juicy slab of well matured blues–Schuman's basic musical recipe–and the sousaphone accompanies dark gravy … whereas Pam Fleming's trumpet and Steve Elson's sax contribute some jazzy side dishes. Next co- writer Erik Della Penna serves a slice of Santana on the guitar and guides the direction to fresh calypso seafood. Then he changes to his six string Banjitar to roast a piece of hillbilly à la bluegrass, coming along a big portion of Jambalaya out of the horns. For desert the whole band strums into some queer klezmer. A filet of Great American Songbook seasoned with a hot blues yodel gets a spicy Puszta dressing.
The menu is rich and served devotedly. Schuman bends over the mic and even screams into his harp … then knees in front of the mighty sousaphone … sits relaxed on a chair and directs the fiddle … standing on it the next moment to fight the saxophone …the sousaphone coos like a pigeon that drops from midair by Schuman's scream of an eagle …
Like the sommelier describes the corresponding wines the stories of the songs are given in-between.
Here's the barefaced badger who always steals away–told by the empathically tapping drums of Patrick Simar. There's the stuffed animal they like to put on the front bumper of New York trucks. Apropos New York … Schuman amusedly states that our city's double name Baden-Baden is just similar to New York, NY. Schräg
Odd stories, charismatically articulated by Schuman with a Tom Waits caw, accompanied by Charlie  Burnham's picking and drumming on his electric violin; a warm underlining when Steve Elson changes from sax to clarinet; the most unsuspicious instrument goes rocking–Schuman's piccolo flute takes a turn to direction Jethro Tull.
The acoustic eye faces New York urban canyons, Paris board walk cafés, oriental bazars and Caribbean beaches. This exotic cocktail is not stressing though–the overall sound stays mostly within the musical comfort zone of the ambitioned blues-rock-jazz-latin auditorium. Overall an intoxicating ride through all genres appetizing for music outside the box. Finally Schuman had to promise to one guest to be right back next year.
And yes, the local band at the birthday party had not yet played the encore and still some beer was left. The priorities for that night were well adjusted.
© Jörg Neuner
---
Line-up
---
Wade Schuman – vocals, diatonic harmonica, guitar, flute
Eric Della Penna – guitar, banjitar, vocals
Joseph Daley – sousaphone
Pamela Fleming – trumpet
Steve Elson – saxophone, clarinette
Charles Burnham – electric violin
Patrick Simard – drums
---
Setlist
---
Set 1
Be There
Your Sister
Plans
So Far So Good
Lonely Man
To Fat To Fly
Doctor's Wife
Hoarder
Dark River
Delivery Man
Set 2
Box of Breath
In Our Home
Ain't Going That Way
Whiskey Bird
Get Get Out
Moving Stones
End Of Sweet Dreams
Crust Of Bread
Encore
Everybody Loves You
Bahamut
---
Konzertbericht & Konzertfotos © Jörg Neuner