Last updated on 18. März 2019
Tara Beier – Hero & The Sage
VÖ: 15. April 2016
Label: Red Raven Records (US/Canada)
Format: CD, Download
Tara Beier & The Silverthorns Live in der Junction Bar Berlin: 26. Juli 2016
Kurzkritik / Hörtipp / Album © Gerald Langer
Das Internet mag prinzipiell auf breite Information angelegt sein, tatsächlich aber müllt es uns sekündlich mit meist völlig überflüssigen Meldungen ein, die insbesondere in diversen (sozialen) Netzwerken geradezu als Belästigung empfunden werden können.
Manchmal werden allerdings über das "world-wide-web" von einem Moment zum anderen Verbindungen zwischen Personen hergestellt, die sich im wirklichen Leben noch nie begegnet sind, wahrscheinlich auch nicht begegnen werden, aber vielleicht doch auf ähnlicher Wellenlänge liegen.
So jüngst geschehen bei Tara Beier und mir bei "Twitter".
"Ob ich mich denn für ihr neues Album interessieren würde?", so ihre vorsichtige Anfrage.
Volltreffer – schon nach kurzem Streaming auf ihrer Website war ich mir sicher, dass ich "Hero & the Stage" und die Künstlerin vorstellen wollte, die in unseren Breiten bisher wohl noch weitgehend unbekannt sein dürfte.
Tara Beier ist geborene Kanadierin, der Vater ein Philippine, die Mutter Kanadierin mit schottischen und britischen Wurzeln. Schon früh erlernt sie das klassische Klavierspiel, wird dann Schauspielerin und Dokumentarfilmerin (I Met A Man From Burma). Danach arbeitet sie am Film "Covered" über ein nicht ausgestrahltes Interview der kanadischen Musikerin, Komponistin, Lehrerin und Sozialaktivistin Buffy Sainte-Marie von 1964, in dem Tara Beier die Rolle der Künstlerin indianischer Abstammung übernimmt. Letztlich ist es diese kleine Aktion, die Tara Beier sich wieder verstärkt der Musik zuwenden lässt.
Das führt zunächst zu einer EP "Purple Trees" im Jahre 2014 und viel Airplay in den USA und Canada.
In diesem Jahr hat sie nun ihr aktuelles Album mit großer Bandbesetzung fertiggestellt. Mir liegen derzeit nur mp3-files vor, aber selbst die klingen schon vorzüglich. Nicht ein einziger Song ist dabei, den man bei etwa 40 Minuten Gesamtlaufzeit überspringen möchte.
Die Stimme von Tara schwebt über einer akustischen Instrumentierung mit Banjo, diversen Gitarren, Wurlitzer und Akkordeon, und lässt Songs entstehen, die sich möglicherweise in gängige Genres wie Indie Folk oder Alternative einsortieren lassen, sich am leichtesten aber mit "einfach gute Musik" beschreiben lässt.
Wen ich nun etwas neugierig gemacht habe, der möge sich am Dienstag, den 26. Juli 2016 im Junction Bar Berlin einfinden. Dort wird Tara Beier mit ihrer Band The Silverthorns – im Vorprogramm: Martin Kelly – ihr einziges Deutschland-Konzert geben. Schaut Euch mal den Eintrittspreis samt Bonus an!
© Gerald Langer
---
Credits
Hero & The Sage Album (Toronto, Canada – all Canadian musicians)
Singer-Songwriter: Tara Beier
Genre: Indie Folk, Alternative and Pop
Producer: Bret Higgins
Guitar: Michael Savona
Electric Guitar: Tom Juhas
Banjo: Frank Evans
Organ, Piano, Wurlitzer, Accordian: Robbie Grunwald
Drums, Percussion: Joshua Van Tassel
Bass: George Chenery
Back up Vocals: Robyn Dell'Unto
Toronto Recording Studios:
Canterbury Studios, Engineer Jeremy Darby
Lincoln County Social Club, Engineer John Dinsmore
Sound Mix & Editing: David Hermiston
Mastering: David Travers Smith
---
Tracklist | Tara Beier
1. Forever Mine 02:51
2. This Innocence 03:19
3. Mayan Sun 03:48
4. She's Gone 02:26
5. Summer Rain 04:05
6. Give It Up0 3:09
7. Guns Road 03:03
8. Freedom Island 04:39
9. Cellar Door 03:18
10. Mount Zion 02:54
11. In The Desert 03:27
12. Hero & The Sage 02:31
Meine Anspiel-Tipps – fett
---
---
TARA BEIER & THE SILVERTHORNS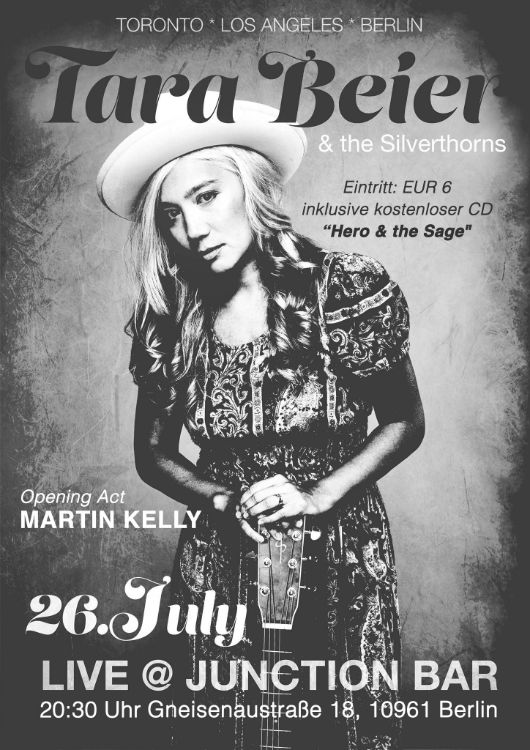 BERLIN: 26.07.2016 THE JUNCTION BAR
---