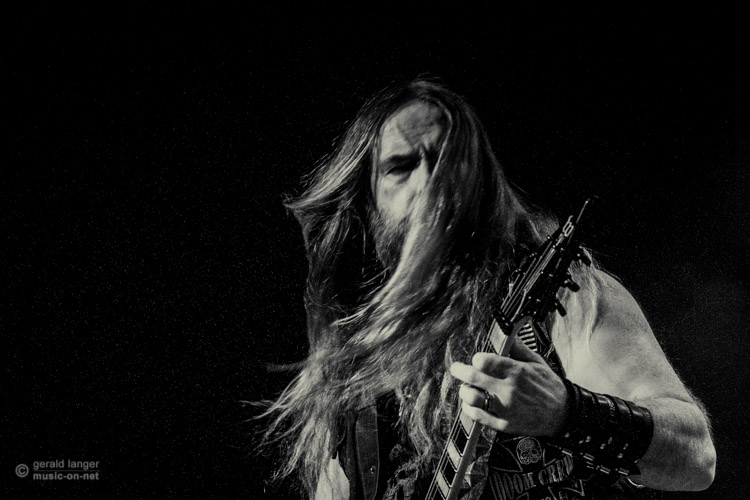 Konzertbericht mit Konzertfotos
Black Label Society und The New Black in der Würzburger Posthalle am 7. Juli 2015
Catacombs Of The Black Vatican Tour 2015
Dezibel satt 
---
Würzburg (music-on-net) – Es braut sich am Würzburger Himmel was zusammen. Die Meldungen reichen von orkanartigen Böen mit Platzregen bis hin zu Hagelschauern. Man muss sich also den Schritt vor die Haustür und die Fahrt in die Stadt gut überlegen.
Ich entscheide mich für das "Risiko" und die Würzburger Posthalle, die, obwohl sie bei meiner Ankunft noch etwas spärlich mit Besuchern belegt ist, sich irgendwo bei gepflegten 30 Grad plus x eingependelt haben dürfte.
Pünktlich um 20:00 legen die Würzburger Heavy Rocker The New Black gleich mal richtig los. Ein Heimspiel mit erkennbar viel positiver Resonanz beim Publikum. Sie sind nicht das erste Mal Support für den Headliner Black Label Society. Die Band hat einen gut dreißigminütigen Lauf, der trotz Hitze allen viel Spaß macht, mich aber dennoch nicht davon abhalten kann, nach drei (zulässig) fotografierten Songs eine Bierbank vor der Posthalle aufzusuchen, um nochmals Frischluft zu tanken.
Kurz nach 21:00 ist die Bühne bereit für Black Label Society aus Los Angeles, die von Anfang an keinen Zweifel aufkommen lassen, wer heute Abend in der Posthalle den letzten Ton angibt.
Das ist zweifellos Zakk Wylde, der mit seinen langen Haaren, dem Vollbart, breiten Lederarmbändern, angehängten Metallgliederketten, kräftigen Oberarmen, ebensolchen Beinen, die in Kampfstiefeln stecken, bereits optisch die Urgewalt dieser Heavy-Metall-Band repräsentiert. Am Mikroständer Kruzifix und Totenschädel, wohl die Insignien der Catacombs Of The Black Vatican Tour, im Hintergrund eine Wand aus Marshall-Verstärker-Boxen, die lediglich vom mächtigen Drum Kit unterbrochen wird. Es wird brachial.
Der ehemalige Gitarrist von Ozzy Osbourne ist ein Gitarren-Virtuose der Hard-Rock-Liga. Zackige Gitarren im Bullseye-Stil sind sein Erkennungszeichen und diese beackert er in allen möglichen Posen, egal ob einfach nur senkrecht vor den eigenen bulligen Körper gehalten oder rücklings auf seinen breiten Schultern.
Man muss kein ausgesprochener Heavy-Rock-Fan sein, um dem achtundvierzigjährigen Amerikaner Respekt zu zollen. Mich fasziniert dieser Mann samt Band, wie er zusammen mit Dario Loria, ebenfalls an der Gitarre, John De Servio am Bass und Jeff Fab in die mittlerweile gut gefüllte Würzburger Posthalle – geschätzt 600 bis 700 Zuhörer – ein solches Gewitter hineinzaubert, dass dahinter die anfangs angesprochenen Unwettermeldungen verblassen.
Auch am E-Piano weiß er zu überzeugen, als er dazu sogar etwas bluesigere Töne anstimmt. Nach knapp 90 Minuten ist der Zauber vorbei. Der Orkan in der Posthalle hat sich verzogen, am Würzburger Nachthimmel nur Wetterleuchten. Was für ein Glück!
© Gerald Langer
---
 Line-Up | The New Black
Fludid – vocals
Christoph Leim – guitars
Fabian Schwarz – guitars
Günt Auschrat – bass
Chris Weiß – drums
---
Line-Up | Black Label Society
Zakk Wylde – vocals, guitars, piano
John De Servio – bass
Jeff Fab – drums
Dario Lorina – guitars
---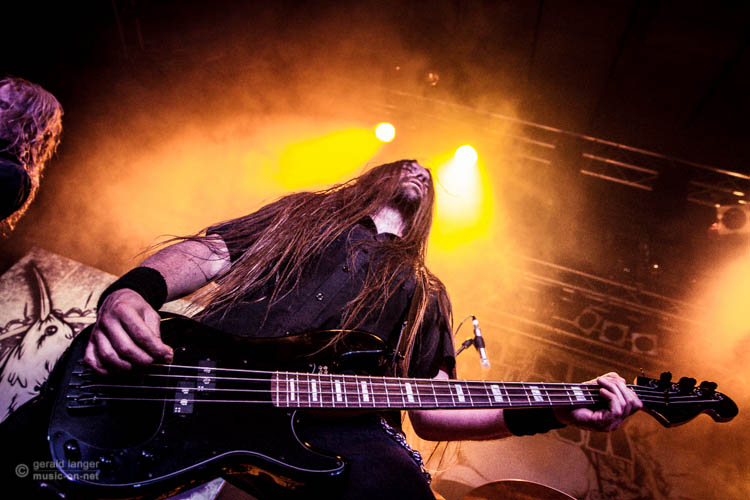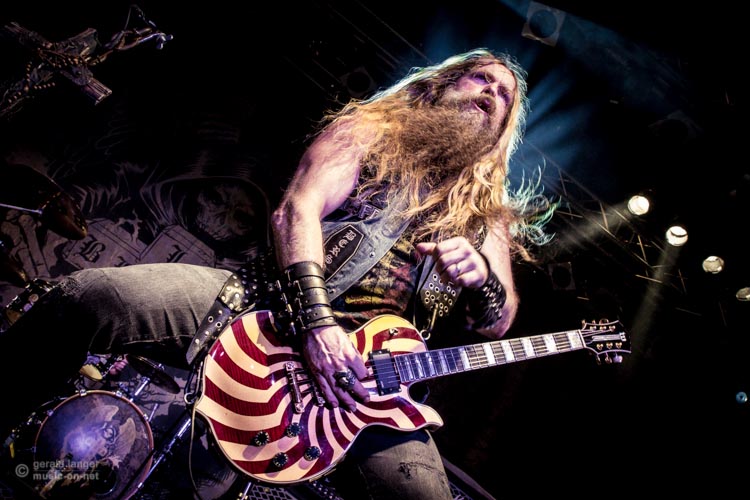 ---

Konzertbericht und Konzertfotos © Gerald Langer (music-on-net)
weitere Konzertfotos von The New Black bei
weitere Konzertfotos von Black Label Society