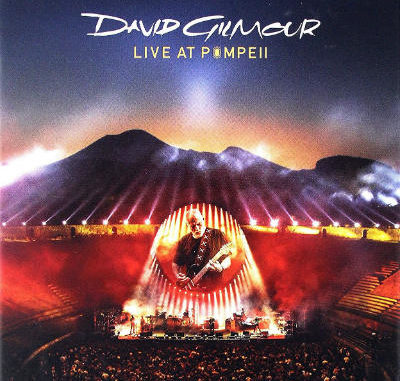 Review / Hörtipp / Album / Musikvideo.
DAVID GILMOUR – Live At Pompeii.
Edition: 2 CD + 2 BR.
Label: Sony Music.
VÖ: 29. September 2017
---
Die Regale des bekennenden Sammlers sind seit Jahren ohnehin proppenvoll, da wird im Sommer 2017 bereits das  "upcoming album" des einstigen Pink-Floyd-Gitarristen David Gilmour angekündigt. "Live At Pompeii" heißt es, die gedankliche Brückenschlag zur legendären Pink Floyd Performance an gleicher Stelle vom Oktober 1971 folgt beim Fan dieser Super-Band unmittelbar.
Der Musikfilmklassiker aus dem Jahre 1972 von Adrian Maben zeigt die damals geradezu kometenhaft aufsteigende Psychedelic-Rock-Band Pink Floyd bei der Aufführung von sechs ihrer Songs im Amphitheater im italienischen Pompeii. Die Band spielte vor der eindrucksvollen historischen Kulisse inmitten ihres überbordenden Equipments. Kein Publikum war damals anwesend, neben der Band selbst nur die Crew.
Was der mittlerweile 71-jährige Brite David Jon Gilmour mit Live At Pompeii 45 Jahre später an zwei Sommerabenden vor jeweils 2.600 Zuschauern als Live-Concert "nachliefert", ist – wie sollte es auch anders sein – ebenfalls allererste Sahne.
Man hat als Käufer zunächst erst einmal die Qual der Formatwahl. Nehme ich nun die
Deluxe Box mit 2 CDs und 2 Blu-rays + Hardcoverbook + Interview with Mary Beard – The Amphitheatre at Pompeii, 4 x Postkarten + Poster.
Doppel-CD
Blu-ray
2-DVD-Set
4-LP-Set?
Meine Wahl fiel auf die fett gedruckte Edition, durch die ich mich sukzessive durchgearbeitet habe.
Erst einmal habe ich mir der Einfachheit halber die CDs angehört. Ja, okay, das letzte Album Rattle That Neck geht erstaunlich gut zusammen mit dem Material aus der Pink-Floyd-Ära. Als Teaser taugt die Compact-Disc somit allemal.
Die wirkliche Faszination entfaltet der konservierte Auftritt allerdings erst beim Einlegen der beiden Blu-rays. Das etwa 2 1/2 stündige Konzert in Pompeii ist superb in Szene gesetzt, der Klang astrein. Beim finalen "Comfortably Numb" ist man ohnehin "high (end)". Man kann dabei zwischen folgenden "berauschenden" Tonformaten wählen: 96/24 PCM Stereo & 96/24 DTS MA.
Pink Floyd sind zwar Geschichte, aber mit dieser "Big Band" an der Seite von David Gilmour wird das große Erbe mehr als nur anständig verwaltet.
Die zugehörige Dokumentation – David Gilmour beim Gang durch die Ausstellung Pink Floyd in Pompeii und bei der Verleihung der Ehrenbürgerschaft in Pompeii – ist gleichsam sehenswert.
Die zweite Blu-ray ist ebenfalls äußerst gehaltvoll und damit weit mehr als nur eine nette Dreingabe.
Konzertausschnitte von der 2015er Tour durch Südamerika und vom 2016er Auftritt im polnischen Breslau sind auf ähnlichem Niveau wie der Auftritt in Pompeii am 7. und 8. Juli 2016 .
Höchst informativ die BBC-Dokumentation "Wider Horizons", die sich auf sehr behutsame Weise dem Menschen David Gilmour und seiner Familie annähert. Die Fragen nach Jugend und dem Elternhaus geben Aufschluss darüber, wie stark sich David Gilmour ein Leben lang vom Thema Musik leiten liess, einen unglaublichen künstlerischen Ehrgeiz über die Lebensmitte hinweg entwickelte und mit seiner zweiten Frau Polly Samson, die für die Lyrics der Songs auf Rattle That Neck verantwortlich zeichnet, in späten Lebensjahren das Familienleben mit musikalisch früh erzogenen Kindern in Sussex noch mehr zu schätzen weiß. Der Brite wirkt im Interview locker und  mit  immer dunklem T-Shirt irgendwie frei von jeglicher Eitelkeit, ohne dabei auch nur eine Spur seines Charismas einzubüßen.
Die Konzertaufnahmen im beigelegten Büchlein sind so verdammt schön, dass es mich schon sehr juckt, David Gilmour mit seiner brillianten Band auch einmal ablichten zu dürfen.
Ich träume einfach weiter, im Hintergrund auf Endlosschleife das einmalig gefühlvolle Gitarrenspiel von David Gilmour.
© Gerald Langer
---
Line-up:
David Gilmour  (guitars, vocals)
Guy Pratt (bass guitars, double bass, vocals)
Steve DiStanislao (drums, vocals)
Chester Kamen (guitars, vocals)
Chuck Leavell (keyboards, vocals)
Greg Phillinganes (keyboards, vocals)
João Mello (saxophones, guitars)
Bryan Chambers (vocals)
Louise Clare Marshall (vocals)
Lucita Jules (vocals)
---
Tracklist Blu-ray 1:
1. Part 1: 5 A.M.
2. Rattle That Lock
3. Faces Of Stone
4. What Do You Want From Me
5. The Blue
6. The Great Gig In The Sky
7. A Boat Lies Waiting
8. Wish You Were Here
9. Money
10. In Any Tongue
11. High Hopes
12. Part 2: One Of These Days
13. Shine On You Crazy Diamond
14. Fat Old Sun
15. Coming Back To Life
16. On An Island
17. Today
18. Sorrow
19. Run Like Hell
20. Time / Breathe (In The Air) (Reprise)
21. Comfortably Numb
22. Documentary: Pompeii Then And Now Doc
Tracklist Blu-ray 2:
South America December 2015:
1. Astronomy Domine
2. Us And Them
3. Today
4. Time / Breathe (In The Air) (Reprise)
5. Comfortably Numb (Jon Carin – Vocal)
Wroclaw, Poland June 2016 – With Orchestra:
6.  5 A.M.
7. Rattle That Lock
8. Dancing Right In Front Of Me
9. The Girl In The Yellow Dress (With Leszek Możdżer)
10. In Any Tongue
Documentaries:
11. Gavin Elder Europe 2015
12. Gavin Elder South America 2015
13. Gavin Elder North America 2016
14. Gavin Elder Europe 2016
15. BBC Documentary – "David Gilmour: Wider Horizons"
Tracklist Audio-CD 1:
1. Part 1: 5 A.M.
2. Rattle That Lock
3. Faces Of Stone
4. What Do You Want From Me
5. The Blue
6. The Great Gig In The Sky
7. A Boat Lies Waiting
8. Wish You Were Here
9. Money
10. In Any Tongue
11. High Hopes
12. One Of These Days
Tracklist Audio-CD 2:
1. Shine On You Crazy Diamond
2. Fat Old Sun
3. Coming Back To Life
4. On An Island
5. Today
6. Sorrow
7. Run Like Hell
8. Time / Breathe (In The Air) (Reprise)
9. Comfortably Numb