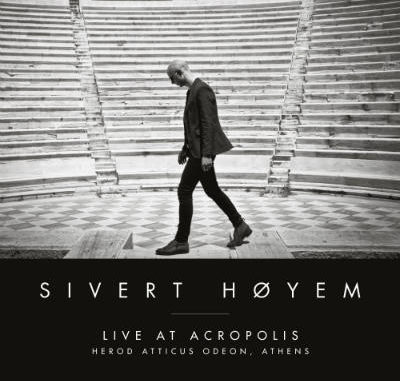 Sivert Høyem – Live at Acropolis – Herod Atticus Odeon, Athens
– Künstler: Sivert Høyem
– Titel: Live at Acropolis – Herod Atticus Odeon, Athens
– Formate: 2CD + DVD, 2LP + DVD, digital
– VÖ: 09.06.2017
– Label: Hektor Grammofon
– Vertrieb: Rough Trade
– Websites: www.siverthoyem.com
– Facebook: www.facebook.com/sivert.hoyem
---
An Griechenland denken, heißt heute für viele Menschen zuerst an den Euro und dann an dessen Rettung zu denken. Vergessen scheint indes die reichhaltige Kultur dieses Landes samt seiner historischen Orte.
Der Norweger Sivert Høyem hat im altehrwürdigen Herod Atticus Theater auf der Akropolis in Athen ein wunderbares Album mit vielen emotionalen und einigen eruptiven Momenten vor einem begeisterten griechischen Publikum aufgenommen, das die zuvor beschriebene Währungskrise wenigstens für einige Momente vergessen lässt.
Im Herbst 2016 hat Høyem hier mit Sondergenehmigung  – ohne geht an diesem Ort, der bereits seit 161 n. Chr. besteht, sonst gar nichts – an zwei Abenden vor jeweils 5.000 Fans gespielt. Eine Größenordnung, die er wohl auch mit seiner früheren Band Madrugada nur selten erreicht haben dürfte.
Die Aufnahmequalität vom Feinsten, die Atmosphäre der lauen Abende über der griechischen Hauptstadt atmend. Das Layout des Albums in kontrastreichem Schwarzweiß gehalten.
Bei der Song-Auswahl kann Sivert Høyem mittlerweile auf insgesamt sechs Solo- und einige Madrugada-Alben zurückgreifen. Es ist also genügend Material vorhanden, um ein 90-minütiges Konzert ohne jeden Hänger zu bestreiten.
Als Opener der kraftvolle Titelsong des letzten Studioalbums Lioness, danach Black And Gold, die Soundtrack-Single zur norwegischen Polit-Thriller-Serie Occupied. Ein Streicherquartett akzentuiert die Songs, eine famose Band mit dem fabelhaften Cato Salsa an der E-Gitarre, Christer Knutsen am Piano,  Øystein Frantzvåg am Bass und Børge Fjordheim am Schlagzeug liefert das solide Fundament.
January 3d vom 2006er Album Exile, danach What's On Your Mind vom letzten Madrugada-Album. Spätestens zu diesem Zeitpunkt hat Sivert Høyem auch den letzten Zuhörer kassiert.
Eine weitere Steigerung erfährt der Auftritt mit der gesanglichen Unterstützung von Marie Munroe bei My Thiefing Heart. Die Singer-Songwriterin, die eigentlich Hilde Marie Kjersem heißt, ist in ihrer Heimat Norwegen ebenfalls kein unbeschriebenes Blatt, hat bereits einige hörenswerte Alben veröffentlicht. Auf Høyem's Live-Album spielt sie die Autoharp, eine Form der Zither, die man eher Folk und Country zuordnet.
Weitere Highlights sind The Boss Bossa Nova und Görlitzer Park. Bei beiden Songs hat Høyem die akustische Gitarre abgelegt und ist ganz singender Frontmann, der sich die Seele aus dem Leib zu singen scheint. In den intensivsten Momenten erinnert die Stimme von Sivert Høyem in ihrer Eindringlichkeit ein wenig an den Australier Nick Cave.
Silences beschließt ein packendes Konzert, das man im puren Stereoton auch auf der beiliegenden DVD genießen kann.
Nachdem ich mir das Album bereits mehrfach angehört hatte, nahm ich mir natürlich auch die Zeit, das Konzert – um den Titel The Kids Are On In High Street erweitert –  am heimischen Bildschirm anzusehen. Kameraführung, Detail- und auch Totalaufnahmen,  alles wunderbar.
Das Album-Covers liess mich allerdings eine reine Schwarz-Weiß-Aufzeichnung des Konzertes erwarten, was auch dem historischen Ort des Amphi-Theaters durchaus angemessen gewesen wäre.
Stattdessen werden eher unterschiedliche Lichtsituation präsentiert. Einmal auch schwarz-weiß. Bei meinem Lieblingssong des Albums – The Boss Bossa Nova. Immerhin!
Deshalb enttäuscht? Nein, nur überrascht!
---
© Gerald Langer
---
Line-Up:
Sivert Høyem – vocals, guitar
Cato Salsa – guitar, organ, backing vocals
Christer Knutsen – piano, guitar, organ, backing vocals
Øystein Frantzvåg  – bass guitar, synth bass, backing vocals
Børge Fjordheim – drums, percussion, backing vocals
Marie Munroe – vocals, auto harp
Lise Voldsdal – violin
Lina Arnes – violin
Ragnhild Lien – viola
Johannes Martens – cello
---
Tracklist:
Disc A:
LIONESS
BLACK AND GOLD
JANUARY 3RD.
WHAT'S ON YOUR MIND
MY THIEVING HEART
HONEY BEE
PRISONER OF THE ROAD
INTO THE SEA
Disc B:
THE BOSS BOSSA NOVA
GÖRLITZER PARK
GIVE IT A WHIRL
MAJESTY
SLEEPWALKING MAN
HANDSOME SAVIOR
MOON LANDING
SILENCES
---
Meine Anspiel-Tipps fett
---