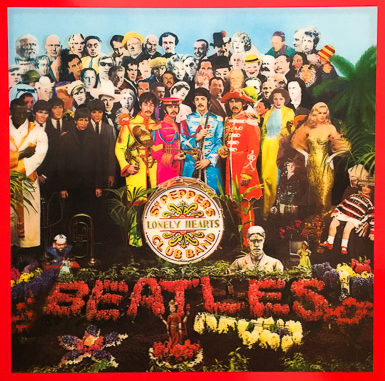 The Beatles – Sgt. Pepper's Lonely Hearts Club Band
– Format: 4 CD + BR + DVD (Limited Super Deluxe)
– VÖ: 26.05.2017
– Label: Apple (Universal Music)
– Website – The Beatles
– Facebook – The Beatles
Review / Tonträger / Album © Gerald Langer
---
Luxuriöse Editionen von Rock- und Pop-Alben zu Jahrestagen sind seit Jahren eine veritable Einnahmequelle für Plattenfirmen und Künstler. Auch ich kann den vielfältigen Angeboten nicht immer widerstehen. In der Konsequenz bedeutet das regelmäßig, dass eine Erstausgabe, irgendein Remaster und dann auch noch eine Luxury-Edition die Regale füllen.
Im Fall von Sgt. Pepper's Lonely Hearts Club Band sieht die Historie bei mir so aus:
Erstes Vinyl im Jahre 1978 – ein Geburtstagsgeschenk meines Freundes Gerd. Dankeschön nochmals für ein so nachhaltiges Geschenk, allerdings bin ich momentan noch am Suchen. Muss das Album verstellt haben.
In den 2000er Jahren kamen dann die umfassenden Editionen The Beatles – Remastered in Stereo und The Complete Mono-Recordings auf Compact-Disc dazu. Natürlich ist auch in diesen Paketen jeweils das bahnbrechende Album  Sgt. Pepper's Lonely Hearts Club Band enthalten.
Gut, auf die zugehörigen neueren Vinyl-Editionen habe ich zumindest (bisher) verzichtet.
Eigentlich schon mehr als genug, oder? Offensichtlich nicht!
An dem jüngst erschienenen Paket – der Limited Super Deluxe Edition – kam ich einfach nicht vorbei. Vier CD's , davon zwei mit neuem Stereo- bzw. Mono-Mix des Albums. Das Ganze angereichert mit diversen (Out-)Takes aus den Abbey Road Studio's, natürlich vor allem für Hobby-Musik-Historiker, wie mich, eine kleine Fundgrube.
Als Einstieg in dieses gewichtige Paket empfehle ich die restaurierte Dokumentation von 1992. Da waren die Pilzköpfe schon längst nicht mehr vollzählig. John Lennon war von Mark David Chapman am 8.12.1980 ermordet worden, George Harrison starb neun Jahre später, am 29. November 2001 mit gerade einmal 58 Jahren, an Krebs. Die Reunion der legendären britischen  Band ist zumindest auf Mutter Erde ausgeschlossen.
Der Zeitgeist der 1960er Jahre wird anhand von Filmmaterial der Swingin' Sixties und mittels Beiträgen von Paul McCartney, George Harrison und Ringo Starr beleuchtet. Die Passagen mit George Martin, der dieses Meisterwerk aufgenommen hat, (dessen Sohn Giles für die neuen Mixes verantwortlich zeichnet), geben Einblick in das Werden dieses bahnbrechenden Albums, an dem sich danach viele Größen der Pop- und Rockmusik orientieren sollten.
Nach der Dokumentation habe ich mir die 5.1-Surround-Audio-Mixes angetan. War im ersten Moment etwas enttäuscht, hatte mir hier etwas mehr Effekte aus dem hinteren Lautsprechern erwartet. Dennoch bin ich nach mehrmaligem Hören der Auffassung, dass es gut ist wie es ist. Insofern möge man vielleicht besser mit den einfachen CDs zum besseren Vergleich starten.
CD 1 und CD 4 geben das Album im neuen Stereomix bzw. als Mono Mix, mit einigen wunderbaren Bonussongs wieder.  Dieses Paket ist auch als  empfehlenswerte Deluxe-Edition verfügbar.
CD 2 und CD 3 sind "Komplettisten" vorbehalten. Nicht jeden Take wird man nach erstmaligen Durchhören sofort wieder anspielen. Um in die Entstehungsära von Sgt. Pepper einzutauchen und dabei nachzuspüren, dass bei aller Genialität von Band und Tonmeister immer wieder auch Fleiß und Weiterfeilen am Song gefragt waren, taugen sie allemal.
Und dann ist da noch das wunderbare gebundene Buch mit vielen Bildern und ebenso viel Text  zum Schmökern.
Ich bereue den Kauf der opulenten Neu-Edition jedenfalls nicht. Aber, bin ich der Maßstab in Sachen Vernunft?
---
Der Inhalt der luxuriösen Box (4 CDs / DVD / Blu-ray)
Aufmachung:
Fette Papp-Box im LP-Format
Vorne eine Holografie des Coverbildes von Peter Blake
Innen der Nachdruck eines Posters aus dem Erscheinungsjahr und das "Zirkusposter" von Pablo Fanque
CD's , Blu-ray und DVD finden ihren Platz im Klappcover, das äußerlich weitgehend der Vinyl-Edition des Albums entspricht.
Dazu noch ein 148-seitiges Buch im quadratischen Hardcover-Format, unter anderem mit Beiträgen von Paul McCartney, George Martin und dessen Sohn Giles.
CD 1:
'Sgt. Pepper' 2017 Stereo Mix
CD 2:
Strawberry Fields Forever [Take 1] – 2:40
Strawberry Fields Forever [Take 4] – 3:00
Strawberry Fields Forever [Take 7] – 3:17
Strawberry Fields Forever [Take 26] – 3:19
Strawberry Fields Forever [Stereo Mix – 2015] – 4:10
When I'm Sixty-Four [Take 2] – 3:00
Penny Lane [Take 6 – Instrumental] – 2:56
Penny Lane [Vocal Overdubs And Speech] – 1:47
Penny Lane [Stereo Mix – 2017] – 3:00
A Day In The Life [Take 1] – 4:41
A Day In The Life [Take 2] – 4:49
A Day In The Life [Orchestra Overdub] – 0:56
A Day In The Life (Hummed Last Chord) [Takes 8, 9, 10 and 11] – 1:55
A Day In The Life (The Last Chord) – 1:55
Sgt. Pepper's Lonely Hearts Club Band [Take 1 – Instrumental] – 2:34
Sgt. Pepper's Lonely Hearts Club Band [Take 9 And Speech] – 2:37
Good Morning Good Morning [Take 1 – Instrumental, Breakdown] – 1:04
Good Morning Good Morning [Take 8] – 2:47
CD 3:
Fixing A Hole [Take 1] – 3:00
Fixing A Hole [Speech And Take 3] – 3:28
Being For The Benefit Of Mr. Kite! [Speech From Before Take 1; Take 4 And Speech At End] – 3:08
Being For The Benefit Of Mr. Kite! [Take 7] – 2:35
Lovely Rita [Speech And Take 9] – 3:05
Lucy In The Sky With Diamonds [Take 1 And Speech At The End] – 3:40
Lucy In The Sky With Diamonds [Speech, False Start And Take 5] – 4:08
Getting Better [Take 1 – Instrumental And Speech At The End] – 2:19
Getting Better [Take 12] – 2:45
Within You Without You [Take 1 – Indian Instruments Only] – 5:33
Within You Without You [George Coaching The Musicians] – 3:56
She's Leaving Home [Take 1 – Instrumental] – 3:49
She's Leaving Home [Take 6 – Instrumental] – 3:48
With A Little Help From My Friends [Take 1 – False Start And Take 2 – Instrumental] – 3:15
Sgt. Pepper's Lonely Hearts Club Band (Reprise) [Speech And Take 8] – 2:00
CD 4:
'Sgt. Pepper' und Bonustracks in Mono:
(Tracks 1–13: 2017 Direct Transfer of 'Sgt. Pepper' Original Mono Mix)
Strawberry Fields Forever [Original Mono Mix] – 4:09
Penny Lane [Original Mono Mix] – 3:02
A Day In The Life [Unreleased First Mono Mix] – 4:43
Lucy In The Sky With Diamonds [Unreleased Mono Mix – No. 11] – 3:50
She's Leaving Home [Unreleased First Mono Mix] – 3:42
Penny Lane [Capitol Records U.S. Promo Single – Mono Mix] – 3:01
DISCS 5 & 6 (Blu-ray & DVD):
Neue 5.1-Surround-Audio-Mixes des 'Sgt. Pepper' Albums und Penny Lane, plus 2015er 5.1-Surround-Mix von Strawberry Fields Forever (Blu-ray: DTS, HD Master: Audio 5.1, Dolby True HD 5.1 / DVD: DTS Dolby Digital 5.1)
High-Resolution Audioversionen des 2017er 'Sgt. Pepper' Stereo-Mix und 2017er Penny Lane Stereo-Mix, plus 2015er Strawberry Fields Forever Hi-res Stereo-Mix (Blu-ray: LPCM Stereo 96 kHz/24 bit / DVD: LPCM Stereo)
Videos (Blu-ray & DVD):
The Making of Sgt. Pepper [Restaurierter Dokumentarfilm aus dem Jahr 1992]
Musikvideos: A Day In The Life, Strawberry Fields Forever, Penny Lane
---
© Gerald Langer
---