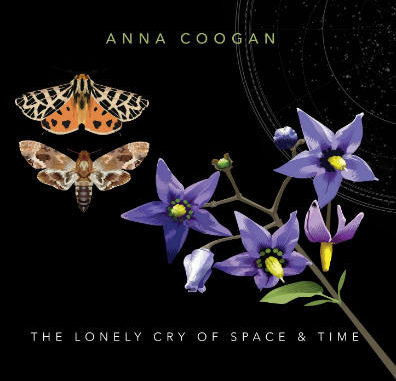 Anna Coogan – The Lonely Cry Of Space And Time
Label: Anna Coogan
Vertrieb: Soulfood
VÖ: 28.04.2017 (UK), 19.05.2017 (GER)
Format: CD, digital
Review / Tonträger / Album © Gerald Langer
---
(music-on-net) – The Lonely Cry Of Space And Time von Anna Coogan ist in den USA und Großbritannien bereits erschienen. Bei uns befindet es sich derzeit noch in den Startlöchern, da der geplante Veröffentlichungstermin immer wieder wochenweise verschoben wurde.
Entwicklungsstufen
In Seattle nahm die Karriere von Anna Coogan, einer amerikanischen Singer/Songwriterin, ihren Lauf. Dort gründete sie im Jahre 2004 die Band North 19. In unmittelbarer Folge erschien zum einen eine erste Album-Veröffentlichung mit dieser Band, als auch das erste Solo-Album Lonesome Cowboys Lullaby.
Später sollten die Solo-Alben The Nocturnal among us (2010) und  The Wasted Ocean (2012) folgen. Alle noch mehr oder minder stark folkloristisch geprägt.
Danach schlossen sich zwei Kooperationen mit dem italienischen Gitarristen und Sessionmusiker Daniele Fiaschi – The Nowhere, Rome Sessions, 2012 und im Jahre darauf Live at Little Rabbit Barn – an.
Birth Of The Stars mit dem amerikanischen Komponisten, Produzenten und Bassisten J.D. Foster eingespielt, folgte 2014. Die drei letztgenannten Alben markieren  quasi die künstlerische Umbruchphase bei Anna Coogan.
Im Jahre 2015 dann die erste Zusammenarbeit von Anna Coogan mit Drummer Willie B (a.k.a. Brian Wilson) bei Live At The Triple Door. Willie B hat schon in unterschiedlichsten Formationen und in verschiedenen Genres gespielt.  Seine Spezialität ist es zudem, die Moog-Bass-Pedalen so in sein Drum-Set zu integrieren, dass er Schlagzeug und Bass gleichzeitig spielen kann. Beste Voraussetzungen für ein schlagkräftiges Duo mit gut funktionierender Rhythmuseinheit.
The Lonely Cry Of Space And Time
Das aktuelle Album The Lonely Cry Of Space And Time bringt in seiner Reduktion der eingesetzten Mittel die verschiedenen Facetten von Anna Coogan zum Leuchten.
Da hört man die US-Amerikanerin zum einen als Folk-Poetin der frühen Jahre, die mittlerweile die akustische Gitarre gegen die elektrische eingetauscht hat. Aber eben auch die, am Mozarteum im österreichischen Salzburg ausgebildete, Opernsängerin Anna Coogan.
Burn For You und Sylvia, über das zwischengeschaltete sphärische E-Gitarren-Solo von Last Exit kunstvoll miteinander verknüpft, seien hier stellvertretend genannt.
In Meteor begegnen sich die glasklare Stimme Anna Coogans und ihr Alter Ego  ("… I made a pact with the ghost in the mirror …") in elektronisch verzerrter Variante.
Follow Me mit J.D. Foster am Bass ist vielleicht einer der zugänglichsten Songs des Albums.
Bei If You Were The Sun unterstützt Matthew Saccuccimorano, der über das Drummer Duo Avalanches mit Willie B verbunden ist, am Synthesizer. In Wedding Vow wird das Duo Coogan & Willie B mit Hank Roberts  am Cello und Brooks Miner an der Orgel kurzfristig zum Quartett. Die Sopranstimme von Coogan schwebt förmlich über diesem eindringlichen Song.
Der Schlusspunkt wird mit dem traurig-schönen Wishing Well und dem kurzen – infernalisch aufbrausenden – By Morning gesetzt.
The Lonely Cry Of Space And Time zeichnet sich durch raffinierte Arrangements sowie eine ebenso fein abgestimmte Tracklist aus, die dem Album vom Titel gebenden "Opener" an über etwa 47 Minuten ein hohes Maß an Eindringlichkeit verleihen. Es ist keine ganz leichte Kost. Aber mit dem Hören entwickelt das Album eine frappierende Faszination, der man sich dann kaum mehr entziehen kann.
"I am unstoppable
I am unbreakable
I am unsinkable
I am unshakable"

Anna Coogan in Collateral
Nachdem ich mich im Rahmen der Rezension durch ihre diversen Vorgängeralben gehört habe, darf ich diese Arbeit von Anna Coogan als ihre – zumindest für mich – faszinierendste bezeichnen.
In unseren Breitengraden ist leider – nach meiner Recherche – bisher nur ein Konzert angekündigt:
Sozio-Kulturelles Zentrum Klösterchen
Dahlemer Str. 28
52134 Herzogenrath
Samstag, 28.10.2017 ab 20:45
---
Line-Up | Anna Coogan
Anna Coogan – vocals, guitar
Willie B.: drums, moog bass, synthesizers
plus:
Brooks Miner – organ
J.D. Foster – bass, synthesizers
Matthew Saccuccimorano – synthesizers
Hank Roberts – cello
---
Tracklist
The Lonely Cry Of Space and Time
Collateral
Burn For You
Last Exit
Sylvia
Meteor
Follow Me
If You Were The Sun
Vedding Vow
Wishing Well
By Morning
---
Meine Anspiel-Tipps sind  fett gedruckt! Unbedingt am Stück hören!
---
Credits:
Engineered:
Matthew Saccuccimorano, Electric Wilburland Studios, Newfield NY
Mixed and Mastered:
Matthew Saccuccimorano, Scaramanga Industries, Ithaca NY
Art & Design:
Q Cassetti Trumansburg, NY
---