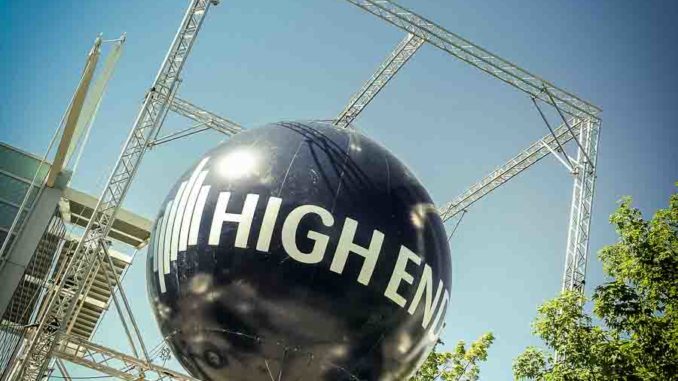 Ankündigung und Vorbericht / Messe.
Neues Messe-Motiv zur HIGH END 2017:
"LET THE MUSIC PLAY!"
Musik als Lebenselexier.
---
Die HIGH END 2017 präsentiert sich mit einem neuen Motiv.
Im Fokus steht hier die Kernbotschaft der Messe "LET THE MUSIC PLAY!".
Das Hauptaugenmerk und Ziel der Messe ist die Präsentation der bestmöglichen Musikwiedergabe. Und diese Botschaft soll durch das neue Messemotiv nach außen transportiert werden. Das zentrale Element der Messe ist das emotionale Erlebnis einer Musikwiedergabe. Es ist allseitig bekannt, dass Musik Balsam für die Seele sein kann, aber auch zu pädagogischen, medizinischen oder therapeutischen Zwecken genutzt wird. Es mobilisiert das Gehirn und produziert Glückshormone. Folgerichtig wurde noch nie so viel Musik gehört wie heute. Musik, so zeigt sich, wirkt auf allen Ebenen des Gehirns, sie hat einen direkten Zugang zu Emotionen und ist tief verankert in der Menschheitsgeschichte.
Das Unbeschreibliche – die Musik
Etwas, was man nicht beschreiben kann, was man nur fühlt – das ist Musik. Die Art und Weise der Technologien bei der Herstellung und Nutzung von "Unterhaltungselektronik" sind sekundär. Nutzerfreundlichkeit, Bequemlichkeit und Preiswürdigkeit neuer Technologien werden selbstverständlich zum Vorteil des Einzelnen genutzt, aber dies betrifft eben nicht den Kern; den Basiswunsch nach Emotionen.
Genau deshalb erleben die Besucher der HIGH END auch alle Technologien in friedlicher Koexistenz, so dass der geneigte Besucher für sich entscheiden mag, welche Lösung ihn am meisten begeistert. Röhre oder Transistor, Analog oder Digital, Lautsprecher oder Kopfhörer, Streaming Lösung mit Downloads oder Vinyl und CD. Alles ist in München erlebbar. Trotz massiver Zuwächse bleibt die HIGH END eine Messe, bei der die Musikwiedergabe im Mittelpunkt steht. Weder hat sich das Ziel der Messe selbst geändert, noch die Absichten der Anbieter über 36 Jahre hinweg.
Der Erfolg der Messe beruht darauf, dass die HIGH END ihren Fokus, der auf der hochwertigen Tonwiedergabe liegt, nie verändert hat.
Pressetext: High End Society
---
Fakten:
Messe:
HIGH END® 2017
DIE ERLEBNIS-MESSE FÜR EXZELLENTE
UNTERHALTUNGSELEKTRONIK
Ort:
MOC München – Lilienthalallee 40
80939 München-Freimann
Termin:
18. Mai – 21. Mai 2017
Fachbesuchertag:
Donnerstag, 18. Mai 2017 (nur mit Vorabregistrierung)
Öffnungszeiten:
18.5. – 20.05.2017 10.00 – 18.00 Uhr
Sonntag 21.05.2017 10.00 – 16.00 Uhr
Eintritt:
Fachbesucher:
20,00 EUR bei Vorabregistrierung (gültig für alle Tage)
Publikum:
12,00 EUR / Tageskarte (gültig an einem Messetag 19.-21. Mai 2017
20,00 EUR/ 2-Tagesticket (gültig an zwei Messetagen 19.-21. Mai 2017)
Veranstalter:
HIGH END SOCIETY SERVICE GMBH
Vorm Eichholz 2g
42119 Wuppertal
Tel. +49 (202) 70 20 22
Fax: +49 (202) 70 37 00
E-Mail: info@HighEndSociety.de
Internet: www.HighEndSociety.de
Facebook: www.facebook.com/HighEndSociety