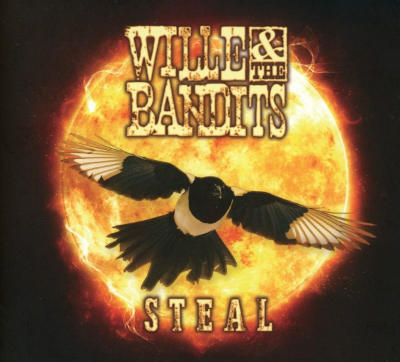 Artist: Wille And The Bandits
Titel: Steal
Format: CD, Digital
Label: Jigsaw
Vertrieb: Soulfood
VÖ: 10. März 2017
Website: www.willeandthebandits.com
Facebook: www.facebook.com/willeandthebandits.official
Review / Tonträger / Album © Gerald Langer
---
(music-on-net) – Guter Retro-Blues-Rock gefällig?
Wille And The Bandits präsentieren auf ihrem mittlerweile 4. Studioalbum Steal die Spielarten der Rockmusik, die ich in den späten 1960er und frühen 1970er Jahren als Teenager zu schätzen gelernt habe. Das liegt sicherlich zu einem Gutteil an der gewählten Aufnahmetechnik.
Steal wurde in den Grange Studios, Norfolk mit Analog-Equipment eingespielt und klingt vielleicht deshalb so frisch, weil ich mich um Jahrzehnte zurückversetzt fühle.
Ganze neun Songs hat das britische Trio – Wille Edwards an diversen Gitarren, Mat Brooks am Bass und Andrew Naumann am Schlagzeug – für das aktuelle Album ausgewählt.
"But, there are no fillers, they all are killers."
Die Tracklist strotzt förmlich vor Kraft, lässt aber auch die leiseren Töne zu.
An einigen Stellen wird die klassische Rock-Trio-Instrumentierung durchbrochen, wenn Wille Edwards zu  Slide- oder Resonator-Gitarre greift, sich Andrew Naumann afrikanischer Fass- und Bechertrommeln bedient. Hammond-Sounds steuert bei einigen Songs Don Airey bei. Der 68-Jährige arbeitet seit 15 Jahren beim Rock-Dinosaurier Deep Purple, ersetzt dort quasi Jon Lord. Airey verfügt über eine Diskografie, bei der ein interessierter Betrachter Gefahr läuft, Stielaugen zu bekommen.
Die Songs auf Steal sind indes durchweg von den drei hauptamtlichen Bandmitgliedern gemeinsam komponiert.
Am Anfang steht meist ein markantes elektrifiziertes Gitarrenriff von Wille, dem die Banditen auf dem Fusse folgen und recht flott ein dichtes Rockpaket packen. Eine Ausnahme das ruhige und luftige 1970, bei dem Wille auf die akustische Gitarre zurückgreift und Naumann zurückhaltend "afrikanisch" trommelt.
Stimmlich möchte ich Wille Edwards zwischen Robert Plant (Led Zeppelin)  und Paul Rodgers (Free) verorten. Dabei beziehe ich mich insbesondere auf Living Free.
Zwei Wünsche bleiben nach 43 Minuten Spielzeit dennoch!
Das Album als Vinyl -Edition und diese Band unbedingt einmal live auf der Bühne zu erleben. Gerade die britische Presse lobt diesbezüglich Wille And The Bandits in den allerhöchsten Tönen.
Die aktuellen Tour-Termine in Deutschland kann man weiter unten studieren.
© Gerald Langer
---
Tracklist:
Miles Away
Hot Rocks
Scared Of The sun
Atoned
Crossfire memories
1970
Our world
Living Free
Bad News
---
Meine Hörtipps – fett
---
Line-Up:
Wille Edwards – lead vocals, electric and acoustic guitar, electric lap steel, weissenborn, dobro
Mat Brooks – six string electric bass, five string electric bass, string arrangements, backing vocals
Andrew Naumann – drums, djembe, congas
feat. Don Airey – Hammond on tracks 1, 3 & 9 plus keyboards on track 3
---
Diskografie
New Breed (2010)
Breakfree (2012)
Grow (2013)
Steal  (2017)
---
Wille And The Bandits – Steal Tour 2017
14.04.2017  B-Verviers, Spirit of 66
01.05.2017  D-Lübeck, Treibsand Festival
02.05.2017  D-Unna, Lindenbrauerei
03.05.2017  D-Düsseldorf, Beim Pitcher
04.05.2017  B-Tilburg, Paradox
05.05.2017  D-Hildburghausen, Route 66
06.05.2017  D-Arnstadt, Rock Jungfer
08.05.2017  D-Berlin, Quasimodo
09.05.2017  D-Ingolstadt, Blues Festival
10.05.2017  D-München, Rattlesnake Sallon
11.05.2017  A-Wien, Reigen
15.05.2017  A-Salzburg, Rockhouse
16.05.2017  CZ-Prag, AghaRTA
17.05.2017  D-Hamburg, Downtown Bluesclub
19.05.2017  D-Leipzig, NAUMANNs
20.05.2017  D-Wredenhagen, Scheune
29.05.2017  D-Reutlingen, Franz.K
31.05.2017  D-Eppstein, Wunderbar Weite Welt
01.06.2017  D-Leverkusen, Topos
---