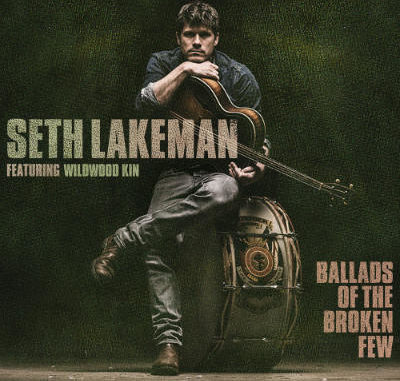 Seth Lakeman Feat. Wildwood Kin – Ballads Of The Broken Few
– Formate: CD, LP, digital
– VÖ: 27.01.2017
– Label: Cooking Vinyl
– Vertrieb: Red Essential/Sony
– Website: www.sethlakeman.co.uk
– Facebook: www.facebook.com/sethlakeman
Review / Tonträger / Album © Gerald Langer
(music-on-net) – Seth Lakeman veröffentlicht in wenigen Tagen sein neues Album in Deutschland. In Großbritannien ist "Ballads Of The Broken Few" bereits im September 2016 erschienen. Der fast 40-jährige Brite ist ein leidenschaftlicher Folker, der sein Handwerk von der Pike auf bereits im heimischen Umfeld mit zwei Brüdern ganz ähnlicher Neigung eingeübt hat.
Sehr früh waren die LAKEMAN BROTHERS – Seth, Seam und Sam – erfolgreich. Bei Veröffentlichung ihres Debütalbum "Three Piece Suite" war Seth Bernhard Lakeman gerade einmal 17 Jahre alt. Es folgten Auftritte als Begleitband für Kathryn Roberts und Kate Rusby, am Ende der Tour die "Umfirmierung" der Lake Brothers zu EQUATION. Einige Alben wurden unter diesem Bandnamen veröffentlicht, durch Europa und die USA getourt.
In den Jahren 2001/2002 unterstützte Seth mit Bruder Sam und dessen Frau CARA DILLON deren erfolgreiches Album-Debüt, bevor wenige Monate später mit "The Punch Bowl" eigenes Solo-Debüt erschien.
Danach gab es im Zwei-Jahres-Turnus immer wieder neue Alben von Seth Lakeman, die von erfolgreichen Touren, unter anderen auch im Vorprogramm von Tori Amos, begleitet wurden und ihn als feste Größe in der europäischen Folk-Szene etablierten.
Die Auszeichnung mit zwei BBC Folk Awards und die Nominierung für den Mercury Prize im Jahre 2005, der dann allerdings an Antony And The Johnsons vergeben wurde, deuten zum einen die Wahrnehmung und zum anderen die Wertschätzung seiner Arbeiten an.
Mit "Ballads Of The Broken Few" verlässt Seth Lakeman vorsichtig den bisher eingeschlagenen Pfad, gönnt sich mit "Wildwood Kin" einen feinen Background-Chor.
Dieses Trio  aus den beiden Schwester Beth und Emillie Key und deren Cousine Meghann Loney  stammt, wie Seth Lakeman selbst, aus der Grafschaft Devon im Südwesten Englands und feilt gerade am eigenen Debütalbum, das noch in diesem Jahre erscheinen wird.
Ethan Jones zeichnet für Percussions und Gitarre verantwortlich, Ben Nichols für den Doppelbass. Zusammen mit Seth Lakeman als singendem Multiinstrumentalisten an Viola, Violine und elektrischer Gitarre prägen sie dieses Album instrumentell. Die besondere Ausrichtung erfährt "Ballads Of The Broken Free"allerdings durch den feinen Gesang der jungen Damen.
Herausgekommen ist  ein abermals großartiges, zudem sehr sauber abgemischtes Album von Seth Lakeman, das zeigt, welche Bandbreite im Genre Folk, welcher häufig und vorschnell mit Lagerfeuerromantik und Klampfe assoziiert wird, möglich ist. Die elf Songs, die teilweise auf Traditionals basieren, benötigen eine kurze Vorlaufzeit, bis sie sich in unsere Gehörgänge eingeschlichen haben. Dann allerdings hat uns die gebotene Bandbreite zwischen Fragilität und fetter Akustik im Griff.
Bleibt nur zu hoffen, dass Seth Lakeman bei der anstehenden Tour vielleicht doch das Damen-Trio mit im Gepäck hat!
© Gerald Langer
---
Credits
Produced by Ethan Johns
Recorded and mixed by Dom Monks
Assisted by Oliver Barton-Wood
Recorded at Mudford Manor, Somerset
Mixed at Three Crows East
Mastered by Mandy Parnell at Black Saloon Studios
Assisted by Hal
Management David Farrow, DMF Music Ltd
Published by Sony/ATV Music Publishing
Designed by Luke Insect
Photography by Matt Austin & Seth Lakeman
---
Line-Up
Seth Lakeman – Lead Vocals, Viola, Violin, Electric Tenor Guitar
Emillie Key – Vocals
Beth Key – Vocals
Meghann Loney – Vocals, Percussion
Ethan Johns – Percussion, Guitars
Ben Nicholls – Double Bass
---
Tracklist
01. Willow Tree 02:57
02. Silence Reigns 03:40
03. Meet Me In The Twilight 03:50
04. Stranger 03:44
05. Fading Sound 04:05
06. Ballad Of The Broken Few 03:12
07. Anna Lee 03:51
08. Innocent Child 04:18
09. Whenever I'm Home 05:00
10. Silver Threads 03:09
11. Pulling Hard Against The Stream 04:37
All tracks written by Seth Lakeman except:
1, 4 & 11 – Seth Lakeman / Trad. ; 5 & 10 – Seth Lakeman / DBG ; 7 – Laurelyn Dossett
---
Meine Anspiel-Tipps – fett!
---
Diskografie
Solo
The Punch Bowl (2002)
Kitty Jay (2004)
Freedom Fields (2006)
Poor Man's Heaven (2008)
Hearts & Minds (2010)
Tales from the Barrel House (2011)
Word of Mouth (2014)
Ballads of the Broken Few (2017)
With The Lakeman Brothers
Three Piece Suite (1994)
With Equation
Hazy Days (1998)
The Lucky Few (1999)
Dark Ages E.P. (2000)
First Name Terms (2002)
Return To Me (2003)
With Steve Knightley and Jenna Witts
Western Approaches (2004)
---
Ballads Of The Broken Few Tour 2017
Präsentiert von KulturNews und FOLKER
08.02.2017  D-Hamburg, Downtown Bluesclub
09.02.2017  D-Oberhausen, Altenberg
10.02.2017  D-Worpswede, Music Hall
11.02.2017  D-Essen, Grend
12.02.2017  D-Münster, Fachwerk Gievenbeck
14.02.2017  D-Wuppertal, Die Börse
15.02.2017  D-Bergheim, Medio
16.02.2017  D-Ansbach, Kammerspiele
17.02.2017  D-Kirchheim-Teck, Bastion
18.02.2017  D-Knittlingen, Cellarium
www.sethlakeman.co.uk
---