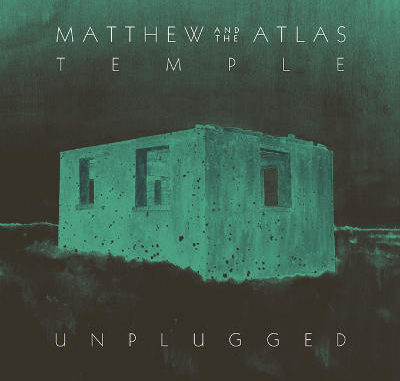 Matthew And The Atlas – Temple Unplugged
Album-VÖ: 23.12.2016
Vertrieb: Communion/Caroline/Universal
Kurzkritik / Hörtipp / Album © Gerald Langer
Kurz vor Weihnachten erschien "Temple Unplugged" von Matthew And The Atlas.  Und doch fast ein bisschen zu früh, denn die Temperaturen fallen erst jetzt auf winterliche Grade, um den heimischen Kamin anzuschüren und die passenden räumlichen Rahmenbedingungen für folkige Lagerfeuerromantik zu schaffen.
Matthew Hagerty hat die Rezeptur des perfekten Kuschel-Folk-Pop spätestens mit der zweiten Studioveröffentlichung  "Temple" im April 2016 entdeckt. Ein Album, das einen vom ersten Ton an gefangen nimmt, wenn man gepflegte Melancholie über 45 Minuten zu geniessen weiss.
Mit just dieser Präzision, nur eben noch entschlackter – rein akustisch – hat Matthew Hegarty das Album nochmals eingespielt, übernimmt dabei ohne jegliche Umstellung die Tracklist der Erstveröffentlichung. Die markante Stimme des Songwriters steht so noch prägnanter im Raum.
Liebhaber von Bear's Den und Mumford & Sons können hier bedenkenlos erstmalig zu greifen, aber eben auch diejenigen, die "Temple" schon als Album – egal ob als Vinyl, auf CD oder als Digital-Download – besitzen, den Ersterwerb abrunden.
Für Musiksammler ist die hier praktizierte "schmalspurige" Veröffentlichungspolitik bei dieser Akustikversion allerdings etwas unbefriedigend:
"Temple Unplugged" ist derzeit leider nur als digitaler Download erhältlich.
Na, vielleicht wird hier doch nochmals nachgelegt. Vinyl wäre gerade bei der rein akustischen Variante zweifellos das adäquate Medium.
© Gerald Langer
---
Matthew And The Atlas auf Tournee
26.02.17 Hamburg, Nochtspeicher
27.02.17 Berlin, Privatclub
28.02.17 Wiesbaden, Schlachthof
---
Tracklist
1. Graveyard Parade
2. On A Midnight Street
3. Temple
4. Elijah
5. Modern World
6. Old Master
7. Mirror
8. Can't You See
9. Gutter Heart
10. Glacier
11. When The Light Hits The Water
---
Meine Anspiel-Tipps – fett 
---