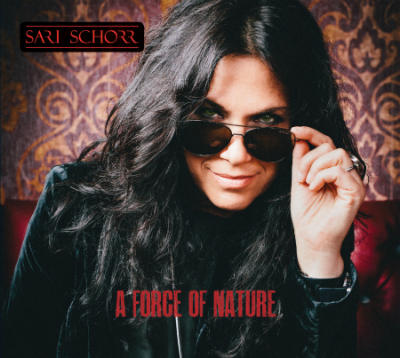 Sari Schorr And The Engine Room – A Force Of Nature
VÖ: 02.09.2016
Label: Manhaton Records
Formate: CD, digital
Review / Tonträger / Album © Gerald Langer
(music-on-net) – Den langen Atem hat sich Sari Schorr antrainiert. Nicht mehr ganz jung, bereits in den Vierzigern angekommen, präsentierte die Marathonläuferin im September ihr Debüt-Album " A Force Of Nature". Das Erstlingswerk atmet über zwölf vorzügliche Songs hinweg beseelten Blues.
Wie selbstverständlich reiht sich Sari Schorr mit ihrer Band "The Engine Room" damit neben angesagten Röhren vom Format einer Beth Hart oder Dana Fuchs ein.
Ihr besonderes Talent hatte auch Produzent Mike Vernon (John Mayall, Fleetwood Mac und viele andere mehr) erkannt, der im Jahre 2015 den "Keeping The Blues Alive"-Preis im Rahmen des angesehenen International Blues Challenge Festivals in Memphis erhielt. Im Rahmen dieser Veranstaltung durfte er einen fulminanten Auftritt von Sari Schorr erleben, die im Hinblick auf ihr Elternhaus über keinerlei Musik oder gar Blues durchtränkte Wurzeln verfügt. Die erlesene Plattensammlung der Eltern hat offensichtlich ausgereicht, um ihre musikalische Karriere anzustoßen.
Die großen Damen des Jazz und Blues – unter anderen Billie Holiday und Bessie Smith – hatten es Schorr schon in jungen Jahren angetan. Sie spielte in diversen Bands, trat auch im New Yorker Club CBGBs auf, der sonst eher den Rahmen für Bands aus der Punk- und New-Wave-Szene lieferte. Auch als Opernsängerin hat sie sich ausbilden lassen.
Schorr's Talent ist sicherlich die Interpretation, ihre großartige Stimme ihr Pfund, das sie in die Wagschale legen kann.
Insofern ließ sie sich bei ihrem Debüt von verschiedenen Komponisten gerne unter die Arme greifen.
Walter Trout steuert "Work No More" bei, "Black Betty" stammt aus der Feder von Leadbelly. Die amerikanische Rockband Ram Jam hatte im Jahr 1977 mit einem Cover dieses Song bereits einen Riesenhit gelandet. "Stop! In The Name Of Love" von den Supremes erfährt auf ihrem Album ebenso eine Verjüngungskur.
Ein ruhiges, vom Piano begleitetes, "Ordinary Life" schließt das knapp 57-minütige Werk ab.
"Well done!"
Ihre Jahre lange Live-Präsenz scheint sich für Sari Schorr endlich auszuzahlen.
Beim diesjährigen Lead-Belly-Festival in der New Yorker Carnegie Hall wirkte sie neben Buddy Guy, Eric Burdon, Edgar Winter und Walter Trout mit. In die New York Blues Hall of Fame wurde sie ebenfalls aufgenommen.
Zurecht!
© Gerald Langer
---
Tracklist
Ain't Got No Money
Aunt Hazel
Damn The Reason
Cat And Mouse
Black Betty
Work No More
Demolition Man
Oklahoma
Letting Go
Kiss Me
Stop! In the Name Of Love
Ordinary life
---
Meine Anspiel-Tipps – fett!
---
Line-Up
Sari Schorr – vocals
Walter Trout – lead guitar & vocals
Innes Sibun – lead & rhytm guitar
Mike Vernon  -percussion
John Baggot – keyboards
Oli Brown – lead guitar
Quique Bonal – rhythm guitar
Jose Mena – drums
Nani Conde – bass
Julian Maeso – organ
Jesús Lavilla – piano & keyboards
Rietta Austin – background vocals
---
Credits
Produced by Mike Vernon
Special Guests: Innes Sibun, Walter Trout and Oli Brown
A Brand New Music Production
Recorded & Mixed at Sputnik Studios, Sevilla, Spain
Engineer: Jordi Gil del Valle
Assisted by Alejandro Barranco & Israel Guerra
Between June 2015 & April 2016
Additional Recording at Platform Studio, Reading, UK
Engineer: Damon Sawyer and Stuart Dixon
Cambaya Records Studio, Antequera, Spain
Engineer: Antonio Navarro
Mastered by Jon Astley at Close to the Edge Mastering