Your Favorite Enemies – Between Illness And Migration: Tokyo Sessions
VÖ: 17.06.2016
Label: Hopeful Tragedy Records
Vertrieb: Edel
Formate: CD, digital
Review / Tonträger  / Album © Gerald langer
(music-on-net) – Die kanadische Band Your Favorite Enemies ist alles andere als eine Newcomer-Band aus Kamera. Über zehn Jahre hinweg hat sich das Sextett bei Tourneen durch Nordamerika, Asien und Europa ein gewisses Renommee erspielt, allerdings ohne den besagten ganz großen Durchbruch im hart umkämpften Sektor des Post-Rock zu erzielen.
Sie sind Lieblinge der Musikkritik. Im Jahre 2015 war ihr nun nochmals als Deluxe-Version neu aufgelegtes Album "Between Illness and Migration"  bereits für den kanadischen Juno Award "Rock Album des Jahres" nominiert.
Bei Your Favorite Enemies ist es leider ein bisschen wie bei einem Hochleistungssportler, der sich immer wieder qualifiziert, sich von Runde zu Runde steigert, aber es nie in die Endausscheidung schafft.  Insofern entwickeln sich Wiederveröffentlichungen und weitere Optimierungen gewissermaßen zu einer Tradition bei dieser Band. Ihr famoses Album  Love Is a Promise Whispering Goodbye aus dem Jahre 2008 erfuhr im Jahre 2011 ebenfalls einen Re-Release.
So wurde "Between Illness And Migration: Tokyo Sessions" quasi nach der multimedialen Präsentation des Materials in Tokyo gleich noch einmal neu interpretiert, wobei das Ausgangsmaterial bereits einwandfrei war. Heraus gekommen ist ein Album, dass nunmehr mit einigen zusätzlichen Einspielungen und vier "Radio-Edits" an die 80-Minuten- Marke heranreicht und damit die Kapazität der altehrwürdigen CD ausreizt. Die Motivation für die auf  "drei Minuten plus" verkürzten Songs ist klar. Die Band will und braucht natürlich noch vermehrt Airplay. 
Mir persönlich sagen die Album-Versionen, die schon auch einmal an die acht Minuten heran reichen, wie zum Beispiel beim hymnischen  "From The City To the Ocean", mehr zu. Die Musik von Your Favorite Enemies, ein geschickter Genre-Mix aus Progressive Rock, Melodic Hardrock, schwelgerischem Shoegaze und Noise Rock im Format von Sonic Youth ("Yünagi") braucht einfach Raum und Zeit, um sich entfalten zu können.
Dann werden Your Favorite Enemies (YFE) nämlich nicht zum "Lieblingsfeind", sondern zu gerne gesehenen Freunden auf unseren Wiedergabegeräten.
Mir geht "Where Did We Lose Each Other" einfach nicht mehr aus dem Kopf. Bin schon infiziert.
© Gerald Langer
---
Line-Up
Gesang – Alex Foster
Gesang, Keyboard – Miss Isabel
Gitarre – Jeff Beaulieu
Gitarre –  Sef
E-Bass – Ben Lemelin
Schlagzeug – Charles (Moose) Allicy
---
Tracklist
01 / Satsuki Yami (My Heartbeat) (new)
02 / Empire Of Sorrows
03 / A View From Within
04 / Where Did We Lose Each Other 
05 / Underneath A Blooming Skylight (new)
06 / From The City To The Ocean
07 / I Just Want You To Know
08 /1-2-3 (One Step Away)
09 / Anyone (new)
10 / Obsession Is A Gun
11 / Muets Aux Temps Des Amours
12 / Yünagi (new)
13 / A View From Within (Radio Edit)
14 / I Just Want You To Know (Radio Edit)
15 / Where Did We Lose Each Other (Radio Edit)
16 / 1-2-3 (One Step Away) (Radio Edit)
---
Meine Anspiel-Tipps – fett!
---
Diskografie
2007 And If I Was to Die in the Morning… Would I Still Be Sleeping with You (EP)
2008 Love Is a Promise Whispering Goodbye
2011 Love Is A Promise Whispering Goodbye – Deluxe and Remastered re-issue
2012 Vague Souvenir
2012/2013 Between Illness & Migration
2016 Between Illness & Migration: Tokyo Sessions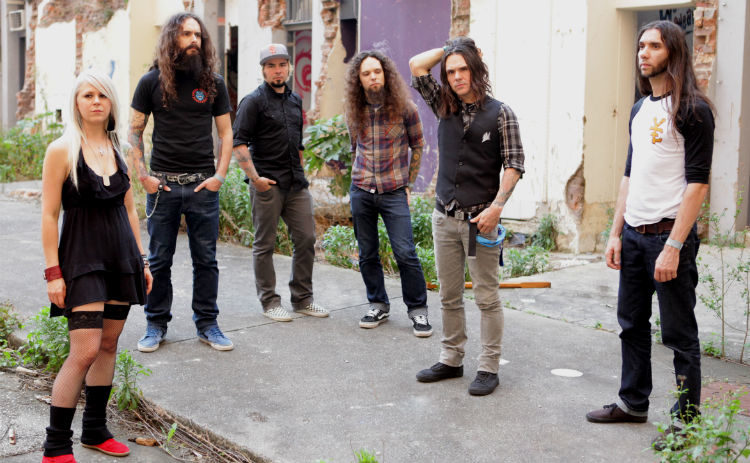 ---